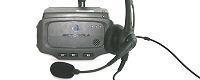 The addition of the Motorola WT 4090 VOW,...provides our clients with a speech delivery thin client platform...for implementing our next generation speaker independent voice picking technology
Woodridge, IL (PRWEB) April 22, 2010
The Numina Group (http://www.numinagroup.com), a leading warehouse automation integrator and provider of voice directed picking solutions, announces that Pick Execution™, its voice directed picking software module supports the newly released Motorola WT4090 VOW. The WT4090 VOW, a voice only wearable, provides a wireless terminal ideally suited to hands free voice and barcode data capture in manufacturing, warehousing, and distribution applications. "The addition of the Motorola WT 4090 VOW, from the industry's top hardware supplier, provides our clients with a speech delivery thin client platform with the features and design specifics for implementing our next generation speaker independent voice picking technology", stated Dan Hanrahan, President of the Numina Group.
Motorola's WT4090 VOW is a simple, rugged tool for voice-directed task workers, enabling high-performance hands-free applications to improve productivity and reduce errors in the warehouse. The wireless 802.11a/b/g device offers the same high-power processing and superior voice functionality as the fully featured Motorola WT4090, including support for voice recognition and text-to-speech engines. At home in extreme temperatures, the WT4090 VOW is ideal in coolers and freezers. A full range of accessories future-proofs and protects this investment, allowing you to easily expand the functionality of this hip- or wrist-mounted device with cordless scanners and more.
Numina Group's Pick Execution™ is a Java platform independent application. The voice application resides on the server and requires only the voice recognition engine to reside on the terminal as a thin client. The voice application, commands, and responses, all reside on the server in SQL database tables, simplifying application development and support. The design keeps data traffic between the server and the terminal extremely low. Pick Execution™ is delivered with a family of pre-developed voice directed picking and order fulfillment validation applications for split case item picking to carton, tote or full case and pallet picking requirements.
By keeping voice message packets small, the client response is fast and reliable, opening up the ability to improve how voice technology is deployed, providing "a client/server architecture, reducing development time and support costs for voice directed picking and for work force management requirements. It opens up the opportunity to deploy the voice application as a Virtual Server/ Cloud Computer Architecture supporting thousands of distributed users from a single server or as voice as a service, explains Rick Ernst, Ph.D. , Vice President of Software Development at the Numina Group.
Numina has selected ADSI, a premier Tier I Motorola Partner, to team with for delivering and for providing on-going support for the site surveys and wireless networks. ADSI will provide pre-configured Motorola WT4090 VOW's with blue-tooth wireless hands-free scanners and on-going extended warranty support throughout North America.
About the Numina Group
Warehouse and distribution automation requirements such as picking, order auditing, print and apply labeling, conveyors, sorting and manifesting require application know-how, proven real-time software, and high quality equipment - and that's exactly what the Numina Group delivers! Since 1986, they have supplied Warehouse Control for Pick, Pack, and Ship Automation proven to improve order fulfillment processes. The systems and products they supply combine high performance software and application expertise to eliminate "bottlenecks", reduce labor and increase revenues to allow clients to gain a competitive advantage in the markets they serve. The Numina Group is headquartered in Woodridge, IL. For additional information please contact Barb Kilroe, bkilroe(at)numinagroup(dot)com; 630-343-2619.
###