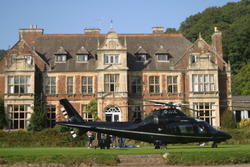 (PRWeb UK) July 23, 2010
Forget extreme boot camp, forget queues at the airport, forget foreign currency. FitFarms is the ideal fitness holiday of choice for women across the UK who seek a healthier and fitter lifestyle that is both sustainable and achievable all on home soil in a fun environment.
In both Exmoor and the Peak District women can kick start a healthy new lifestyle led by a team of health experts and professionals who together create exercises, nutritional guidance and information and workshops all designed to achieve weight loss and an overall healthier lifestyle. The holidays ensure a continued pattern of fitness with post course programmes and support extended to 3 months to ensure the new results are maintained.
The FitFarms weight loss boot camp combines weight loss and the toning of the body via a controlled environment over a week. Following an initial one to one consultation with a physiotherapist and personal trainer you are then welcomed to a variety of exercises designed to suit your level of fitness. Days start with an intense exercise and finish with fun activities including Salsa and Line Dancing. There are only 20 women per course who are exposed to 15 health professionals throughout the week. To maximise the results the fitness camp use their own intensity level scale which is based on heart beats per minute (HRS – Heart Rate Scale). The HRS means you are not competing with others which ultimately allows you to feel comfortable with yourself and the surroundings when exercising.
Nutrition is taken very seriously at weight loss retreat and former national newspaper nutritional therapist Julia FitzGerald has devised simple, tasty menus that support you throughout the week. These are designed to be continued at home. Julia works closely with the FitFarms head chef to source local, organic and seasonal produce for the week long holiday. Unlike most weight loss diets and boot camps, the FitFarms nutritional programme is not simply about cutting calories, it looks at the science behind weight loss; calorie input versus calorie output.
The problem with low calorie diets is that the results tend to be short-term, with many people seeing their weight return to its pre-diet level or even increase when they return to their old dietary habits. This causes both physical and emotional stress which can lead to a cycle of negative behaviour involving feelings of deprivation, guilt and failure. The focus is on having a more positive relationship with food and inspiring permanent change. Providing the right nutrients at the right time ensures that appetite and cravings stay under control and crucially promotes portion size re-training. The intake of carbs, protein and healthy fats are also carefully balanced to encourage fat burning while building muscle.
Three key areas are covered in the workshops; Nutrition, Exercise and Behaviour Change. With Julia during the week you will take part in nutritional workshops. You will cover a wide variety of areas such as mineral testing, food labelling, healthy menu choices, label reading, thyroid testing, blood sugar control, nutrient rich foods to name but a few. These allow you to have greater insight and knowledge on food helping you meet your fitness goals.
Exercise workshops run throughout the week and progress with varied subjects allowing you to design your own exercise programme using proven personal training techniques. You will work with the trainers on a one to one basis to devise your programme for ongoing post course use.
Behaviour Change is the final workshop covered. These sessions are interactive and will help you understand the reasons why eating healthily and exercising regularly has been an obstacle up to now. Understanding the underlying issues will help you stay on track and reach your long term health and fitness goals.
If doubts remained as to whether this is a holiday the accommodation should ensure a more holiday like feel. In Exmoor, Somerset, the beautiful and warm Manor house is situated within the Exmoor National Park. In the Peak District in Staffordshire, the rustic Farm house and architect designed barns are situated within the Peak District National Park. Both properties and locations ensure maximum relaxation whilst maximising your programmes and the results to date are excellent with an almost 90% success rate.
Ultimately you are giving up a week to lose weight and improve your health and with FitFarms you couldn't be in better hands.
Dates run at both locations from May to November with prices starting from £1495.00 for a single and £1095.00 for a shared room.
###