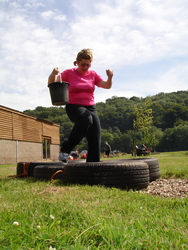 (PRWeb UK) September 10, 2010
A retreat in FitFarms, UK's no. 1 weight loss and fitness camp, can guarantee a result of toned and slimmer body for a brief period of time because they have the expertise of qualified health professionals and the advantage of controlled environment.
Being the longest established boot camp in the country, its varied and individualized tailor-made programs for women have been proven effective without fail. The various intensified activities involved in the program are specially designed for optimal results while considering each individual's physical ability.
Also, Fitfarms takes pride of keeping small group (average of 20 women) for each course to ensure personalized and undeterred attention of the health professionals. Apart from the benefit of one to one consultation with the trainer, members can take advantage of the various workshops held while in the fit camp. The workshops aim to enhance the member's knowledge about nutrition and on how adopt this new fitness habits after completing the weight loss course in FitFarms.
However, the commitment of FitFarms to help you does not end in the fitness and weight loss retreat because they will create a 3-months post program for to take home and it is designed to fit in to into clients lifestyles. It means that clients can still continue with fitness weight loss boot camp program and exercise routines effectively even without the FitFarm's facilities.
So, stop researching and paying unconfirmed weight loss fads and fitness miracles. Instead give Fitfarms fitness and weigh loss boot camp an opportunity to help you achieve a guaranteed healthier and fitter you!
###