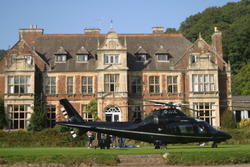 (PRWeb UK) September 29, 2010
There is no other better way than to shape up and lose weight through the proven methods of UK's No.1 Sports Science and Weight Loss Boot Camp, FitParks. Enroll now and you will enjoy a 3-months weight management program and support from an affiliated coach for free.
Losing weight is a tough challenge but maintaining the ideal weight for an extended period or for a lifetime is a tougher challenge because it takes a revamp of one's total lifestyle and mindset. And being the longest established weight loss retreat in the country, FitParks fully understands this challenge.
With the help of the individually designed weight management program, members can expect fast and optimum results. The program is aimed to increase their fitness levels and to lose weight more rapidly. Generally, it will cost you to have a customized weight loss and fitness program but FitParks is offering it for free for three months. As soon as you become a member of FitParks, you can take advantage of this programme.
In addition to that, FitParks ensures that you are not alone in applying into practice the program and that you are directed by experts only. So FitParks is now opening its door to support you through an affiliated coach and again, it is for free.
FitParks the fitness boot camp is committed in helping those individuals who are decided to get rid of their unwanted flabby muscles and oversized clothes. If you are committed to be healthy and fit, then FitParks can help you with guaranteed and fast results!
FitParks is a non-military weight loss and fitness boot camp and it focuses on sustainable weight loss result by teaching women the correct balance between nutrition and exercise. FitParks delivers a guaranteed fast result of healthier and fitter you.
For more details of their programmes, contact 0800-634-3070 or visit http://www.fitparks.co.uk.
###