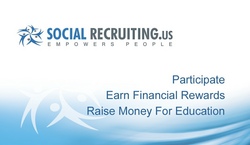 Christmas and Thanksgiving comes early to Southern California. We believe in the magic of paying it forward and invite Americans to participate and make a difference.
Santa Monica, CA (PRWEB) November 22, 2010
Social Recruiting will donate proceeds from recruiting placements to improve American lives, by connecting with people who are struggling to get by and alleviating the cost of owning a car. The program's mission is to constructively find solutions to employ Americans.
The Problem
Americans are struggling financially to own and drive cars; and without proper transportation, Americans miss opportunities to finding and landing a job.
How Companies Participate and Collaborate With Social Recruiting To Help Employ America
Social Recruiting uses recruiting proceeds to improve lives. For 2011, every 5th recruiting placement fee received will be donated to offset the cost of owning a car. Social Recruiting will reimburse lease car payments owed by drivers for a period of one year.
Social Recruiting will also reimburse insurance and gas for one year, for drivers who allow their cars to be wrapped.
The car program's purpose is to assist people in attending career fairs, interviews, and obtain employment. Once a person gets a job, they may use the car to travel to and from work or choose to pay forward this benefit to a person in greater need.
1) Companies participate by sending open positions in Information Technology that require technical recruiting.
2) Social Recruiting selects people for the car program, who are highly motivated, have great need, and live within 10 miles from participating companies.
3) Companies that join help expand the program to more communities.
Currently, Social Recruiting is supporting companies in Southern California.
People interested in the Car Lease Program will upload a video to Save US Jobs YouTube Channel and explain how the program will benefit their job search and improve their life. Our staff, with help of participating partners will choose people for the program.
Background
Social Recruiting uses recruiting proceeds to Save U.S. Jobs, and has been providing recruiting solutions in Information Technology and Engineering since 1998. The team has worked with major corporations such as Herbalife, JD Powers Associates, Aramark, Disney and Fox Interactive Media/ MySpace.
###