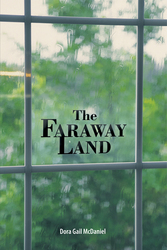 Grand Junction, CO (Vocus) June 19, 2010
The fortunes and misfortunes of Grayeson Manor will threaten to tear a family apart in The Faraway Land (published by WestBow Press), the sweeping new family saga by Dora Gail McDaniel about the strength of unconditional, undying love.
Set in the fall of 1812, The Faraway Land introduces readers to the unexpected matriarch and mistress of Grayeson Manor, Myrnie Grayeson, a tiny woman whose body is twisted, debilitated and bent but whose spirit can fill a room. The doting mother of twin sons, Myrnie is left to raise them both and oversee the majestic estate of Grayeson Manor in the absence of her husband, Godfrey. She counts among her blessings the assistance of her husband's kindly yet indomitable uncle, Michael, and her dear friend and secretary, Hope.
But autumn at Grayeson Manor beckons the approach of the twins' 18th birthdays and the christening of their journey into manhood. Myrnie will have to judiciously maneuver relations with her two sons, who are becoming quite different men than anyone could have imagined. One son, John Paul, matures with aplomb, eager to take on responsibilities at the manor. But her other son, Charles Martin, disdainfully distances himself from those who love him and care about his decisions.
When a horseback ride ends tragically for one of the young men on the estate, Myrnie must face the fact that Charles Martin is choosing an increasingly dangerous course, one that threatens the future of Grayeson Manor and its residents. Charles' disturbing behaviors, in addition to the arrival of a beautiful neighbor, Catherine Hampton, create a growing rift between him and his twin brother. With the annual Christmas Ball approaching, the scene appears set for disaster.
Together with Michael, Myrnie must repair the rift that has broken the bonds within her family and restore peace to the Manor. But what will come to pass? All that John can be assured of is that his mother chooses to receive ongoing strength from his father and his father will continue to strengthen her from his home in The Faraway Land.
About the Author: Dora Gail McDaniel's mother's long illness instilled a childhood desire to search for things beyond the veil. A marriage of nearly 50 years and the blessings of three children brought a busy and fulfilling interlude. The Faraway Land is her publishing debut.
About WestBow Press
WestBow Press is a strategic self-publishing alliance of Thomas Nelson, the world's premier Christian publisher, and Author Solutions, Inc. (ASI) - the world leader in the fastest-growing segment of publishing. Through this partnership, authors benefit from the rich publishing heritage of Thomas Nelson and the speed-to-market advantages of the ASI self-publishing model. Titles published through WestBow Press will be evaluated for sales potential and considered for publication under the Thomas Nelson imprint.
###