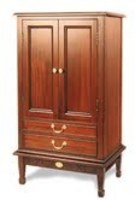 Originally, our chests were designed to provide a fine furniture replacement for the piano benches used to store sheet music
Seneca, SC (Vocus) April 21, 2010
Wren Chest, long recognized by musicians as America's heirloom quality music chest, is reaching beyond the music room to embrace a wider range of potential customers. "Originally, our chests were designed to provide a fine furniture replacement for the piano benches used to store sheet music," says Wren president Frank Robbins. "And we also sold chests to vocalists and instrumentalists. But now our present customers are telling us to expand our thinking to include storage for collectibles, keepsakes and vintage memorabilia -- scrapbooking, miniatures, animation art, knives and blades, watches, medals, tokens, paper money, archaeological artifacts, numismatic / philatelic needs and other collecting categories. Our new tagline says it all: Heirloom Quality Furniture for Music & Collectibles."
Americans collect, store and display all kinds of things, from irreplaceable family papers, hobbyist manuals, papers and other keepsakes to CDs and DVDs, silverware and jewelry -- plus various hobby materials and memorabilia, from antiques collectors to collector car documents and product reviews, action figures, various forms of decorative arts, small antiques and, of course, sheet music. The collectibles market is burgeoning because of Internet sites like eBay. Each collectible has great appeal (and often incalculable value) to the collector. And the collecting hobby can be quite restful and satisfying. But collecting has also been called an unruly passion. "We just want to help make it less unruly and more enjoyable," Robbins declares.
"So, thanks to our customers' suggestions, Wren is now targeting people who are into baseball card collecting, coin collecting, stamp collecting, postcard collecting, button collecting, photograph collecting, print collecting, map collecting, jewelry collecting, gem collecting, butterfly and insect collecting, autograph collecting and collecting (or organizing) keepsakes and just about any other small item, sheet of paper or craft that will fit in our different sized drawers including pet papers and pet memorabilia. I even read recently about people who collect cat whiskers," he added, "but that's probably a very tiny group!"
Robbins' company was founded in 1993 and named for Sir Christopher Wren, the famed Victorian architect, scientist, inventor and astronomer, who is said to have insisted on the finest materials and highest standard of workmanship. Wren Chests were created to match the finish -- and prestige -- of Steinway & Sons pianos and were sold to Steinway customers in piano stores before becoming more widely available online. The first products were five- and ten-drawer models crafted from select hard woods, with dovetail construction on all critical joints, brass hardware, thoughtful touches like dust covers between the drawers and fully finished sides and back that allow Wren chests to be used in free standing situations rather than having to position them against a wall. Today, some Wren models are available as individually painted works of art that may be created to match a customer's room décor -- or even a child's room.
"Our customers love their Wren Chests," Robbins says. "They can be found in music rooms all over the country, in apartments and country cottages as well as in upscale homes where no expense has been spared. Bargain chests," he claims, "don't offer the level of quality desired by people who want a fine piece of furniture to store their music or prized collections. Wren Chests pass the test of close inspection, revealing details of craftsmanship uncommon even to many high end case goods. With proper care, Wren collection furniture will still be around for future generations to enjoy as a treasured heirloom handed down by parents or grandparents.
And that's true whether you're a piano player, instrumentalist, vocalist or someone who's seriously into keepsakes and collectibles. Our distinctive Wren logo declares that you have chosen the finest collections chest available for your music, keepsakes and collectibles.
The full line of Wren Chests may be viewed at http://www.wrenchest.com. Inquiries from interior designers and specialty retailers who serve the keepsakes and collectibles markets are invited.
Contact:
Frank Robbins
Wren Chest
P.O. Box 326
Seneca, S.C. 29679
888-909-9736
http://www.wrenchest.com
###