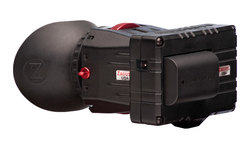 We have been working on the EVF design for the past five months and we are including features that shooters need...
Chicago, IL (PRWEB) October 15, 2010
Zacuto USA is leading the way with the Z-Finder EVF: a 3.2 inch, high resolution monitor that will work in conjunction with existing Z-Finder optical loops. "The resolution of the screen is incredible," says DP & Director Philip Bloom, "which makes focusing an absolute doddle. Finally, a proper true viewfinder for these DSLR s." Today, "We're gonna change the game...again," says Steve Weiss and Jens Bogehegn, veteran filmmakers, product designers and owners of Zacuto. "We have been working on the EVF design for the past five months and we are including features that shooters need, such as, false color & peaking."
Zacuto is the only camera accessories manufacturer to offer an EVF with a two-piece design. This design creates three functional uses:
1. Z-Finder attaches directly to a camera's LCD screen for run'n'gun shooting.
2. Z-Finder attaches to EVF monitor creating the world's first anti-fog EVF.
3. Flipping up the Z-Finder allows users an adjustable 3.2" high resolution monitor.
Product Specifications and Key Features:

3.2 inch high resolution monitor
Actual 16x9 with 800x480 resolution
.87 dot pitch
Works with all Z-Finder models
Operates for a ½ day on a Canon LP-E6 camera battery or can use 12 volt external power
Focus Assist, False Color Exposure Assist and HDMI loop through
Includes a Zacuto proprietary hot shoe mount and mini HDMI cable
Convenient flip-up design: Z-Finder can flip up like a traditional ENG EVF's to view 3.2" color screen
Z-Finder EVF: compatible with full range of HD DSLR cameras: Canon 5D MKII, Canon 7D, Canon Rebel T2i, and Nikon D3s and D7000.
EVF can be used on any manufacturer's rig via 1/4 20 screw, 15mm rod or articulating arm
"The wonderful part is we're half-way there considering we've had almost two-years to perfect the optics portion of our Z-Finder optical viewfinder, especially with our new anti-fog system, which has become the mainstay in the industry," says Weiss. Additionally, Zacuto has created a video series on "The Evolution of the Z-Finder EVF" coming to market. As of Oct 2010, they have released two videos in the series: "Introduction" and "Ergonomics." In each video, Zacuto brings in outside specialists, DP's and engineers to talk about these revolutionary concepts. "This is the first time," says Weiss, "we have created a continuing video series involving users, customers, industry leaders and engineers, which will document the evolution of our Z-Finder EVF from inception to delivery."
Pricing and Availability: Z-Finder EVF has a list price of $775.00. An upgrade path for existing Z-Finder users and a combo-kit (Z-Finder with EVF) will be available at a discounted price (TBD). For more information, to watch the Z-Finder EVF Video Series and to sign up for the Z-Finder EVF reservation list, visit http://zfinderevf.com.
ABOUT ZACUTO
Zacuto, located in Chicago, Illinois, is known for their "Made in the USA" brand of high quality, originally designed camera accessories. Their rental house division builds custom camera packages and delivers nationwide. Zacuto Films produces original programming and most recently, two of their webisodic programs: "FilmFellas" and "The Great Camera Shootout 2010" are nominated in the 2010 Emmy Awards. For more information, visit http://www.Zacuto.com.
###