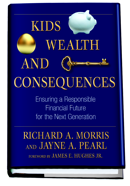 Because teens and young adults experience so much stress and pressure to perform, parents need creative ways to focus on pressing issues with their children, and to improve their skills and knowledge.
Amherst, MA (Vocus/PRWEB) February 15, 2011
While Valentines Day and Presidents Day appear on most February calendars, this month is notable for several other reasons that can provide parents opportunities to celebrate, guide and better bond with their children, note Jayne Pearl and Richard Morris, co-authors of Kids, Wealth, and Consequences: Ensuring a Responsible Financial Future for the Next Generation (Bloomberg, a Wiley imprint, 2010).
Chase's Calendar of Events, which lists special events, holidays, federal and state observances and historic anniversaries, lists February as:

National Parent Leadership Month
International Boost Self-Esteem Month
International Expect Success Month
Relationship Wellness Month
Time Management Month
Youth Leadership Month
"Parents can use one or all of these February events to help focus on pressing issues with their children, and to improve their skills and knowledge," say Pearl and Morris. "It's quick and easy to search the Web for information about any of these events to find recommended projects and tips parents can implement with their children."
For instance, Parents Anonymous created National Parent Leadership Month to "recognize, honor and celebrate parents for their vital leadership roles in their homes and communities and in state, national and international arenas." It offers a list of "20 Ways to Demonstrate Parent Leadership."
International Self-Esteem Month focuses on "the importance of nurturing and cultivating self-esteem to beat the winter blahs, to boost morale and to inspire yourself and others to seize new challenges." To honor this day, What Now Grad offers a short slide show with tips parents can use for building confidence in their children, such as:

Start your day with a pep talk
Stay away from self-insults
Stop comparing yourself to others
Do something you're good at
Keep a "success journal"
"Whatever your take may be on the controversy surrounding the extreme pressure Amy Chua subjects on her children in her new book Battle Hymn of the Tiger Mother (Bloomsbury UK, 2011), parents would be wise to find ways to counter some of the stress their children may feel. They will find many creative ideas with just a little clicking around the internet about the many special events this month." say Pearl and Morris.
Kids, Wealth, and Consequences helps affluent parents and their advisors understand how affluence affects children's future success, happiness and motivation. The book explores everything from how and when parents should talk to their children about the often-uncomfortable topic of money to what affluent families can learn from the economic meltdown about spending, saving and investing to help them better prepare themselves and their children to survive in any economic environment.
Jayne Pearl is a journalist and entertaining speaker, focusing on family business and financial parenting. She is also author of Kids and Money: Giving Them the Savvy to Succeed Financially (Bloomberg Press) and has co-authored or ghost-written ten other books. Jayne began her career at Forbes and was former senior editor of Family Business magazine, to which she has contributed for 20 years.
Richard Morris is an adjunct professor at the Lake Forest Graduate School of Management and is principal of Evanston, Illinois-based ROI Consulting, helping family owners expand and pass down their business to subsequent generations. Previously, he worked at his family's 80-year-old privately held company, Fel-Pro Incorporated, managing Marketing and then Acquisitions, and serving on the Board of Directors until its sale in 1998.
Financial Parenting Group
Read the first chapter
Press Coverage
###