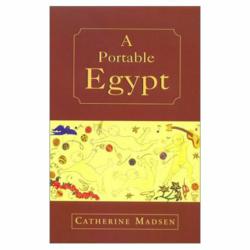 That's the most damning argument against my own position I can think of: that the woman who aborts doesn't have the imagination to see how she might have and love the child, can't rise to an occasion, can't shift her spiritual gears.
Amherst, MA (Vocus/PRWEB) March 01, 2011
In a new YouTube interview, first in a series, Catherine Madsen discusses the process of writing her novel, A Portable Egypt (Xlibris, 2002). Madsen's ambitious novel takes on central issues that challenge and divide the country today: sex, religion, political polarization, and the abortion debate. The interview offers a glimpse of the nuanced thinking and earthy humor that make the novel a unique contribution to the political discussion.
Novelist and critic Dara Horn has said, "A Portable Egypt is that rare, almost unheard-of creature: a 'political' novel that treats a divisive issue not as a chasm that runs between people, but as one that runs within them." Even as Madsen explodes the platitudes and dogmas of both sides of the contemporary abortion debate, her characters struggle to speak to each other across ideological lines. Driven not only by principle but by intimate moral anguish, they gradually reveal their private inconsistencies with their public positions.
Madsen's disarmingly sympathetic, sharply satirical, and frankly erotic story recognizes the confusions of sex and the inadequacies of a public debate that attempts—on both sides—to make sexual behavior and personal choices predictable. This is a story in which there are no villains.
In addition to A Portable Egypt, Catherine Madsen is the author of a critique of modern liturgical language called The Bones Reassemble: Reconstituting Liturgical Speech (The Davies Group, 2005), and a cycle of rituals called In Medias Res: Liturgy for the Estranged (The Davies Group, 2008). She is also a songwriter and librettist. Her essays have appeared in CrossCurrents, Pakn Treger, The Sun, Tikkun, Signs, and other journals.
She is available for media interviews.
# # #