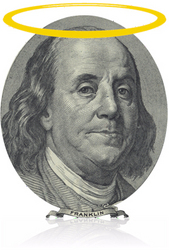 Wealth Virtues is a book that will allow readers to define and achieve wealth regardless of their current age or income level.
Port Republic, MD (PRWEB) March 2, 2011
Wealth Virtues author, James Ward, was featured on The Balancing Act on Lifetime Television with host Danielle Knox to discuss how the wisdom of Benjamin Franklin can help us in these modern times to eliminate debt and create wealth.
In discussing the rationale behind the book, James Ward commented, "With my three girls, I want them to succeed like I feel we have with our financial future. We want to make sure that we are not a burden on them, and use the wisdom from Franklin's virtues to help empower them to be debt-free, and to be successful in whatever they want to pursue." It is a goal that Ward wanted readers of Wealth Virtues to consider for themselves. James also discusses with Danielle how the creation of wealth is simplistic, and therefore, he wrote Wealth Virtues with simplicity in mind.
James Ward describes how many people mistakenly perceive 'wealth' as the amount of money required for one to live like a king. This perception may inhibit many from even perusing a realistic and easily attainable measure of wealth. In his book, Wealth Virtues, Ward redefines wealth as simply the goal of 'acquiring more money than you spend, and to save more money than you owe.' To help readers understand why these virtues matter, James Ward provides knowledge and insight on the impact of health, creativity, non-linear thinking, and investing to allow anyone to achieve his or her goals, as well as to become wealthy as defined within Wealth Virtues.
Wealth Virtues is a book that will allow readers to define and achieve their own wealth regardless of their current age or income level. Whether a person measures wealth in monetary terms or as a measure of the quality and meaning of their life, Wealth Virtues will change the way people live if they are willing to follow the easy path set forth by James Ward, with help from one of America's preeminent Founding Fathers.
About The Balancing Act:
The Balancing Act show airs on Lifetime Television at 7:00am (ET/PT) - and is America's premier morning show that is about women, for women, and trusted by women. Celebrating life and all there is to accomplish, The Balancing Act inspires and empowers with entertaining and educational segments, placing women in the best position to achieve success in every area of their lives. For information or to view a show, visit http://www.TheBalancingAct.com. For more details about The Balancing Act, LLC please visit parent company O2 Media Inc. at http://www.o2mediainc.com.
Wealth Virtues by James Ward is available online at Amazon, Barnes & Noble, and other online outlets including the Resource Store at WealthVirtues.com.
Embracing Benjamin Franklin's virtue of Humility, James Ward will donate ten percent of his earnings from Wealth Virtues to First Book, an organization that provides new books to children in need.
Wealth Virtues
Written by James Ward
ISBN-13: 978-1-60844-636-0
ISBN-10: 1-60844-636-0
Category: Personal Finance
Publisher: Dog Ear Publishing
Paperback 160 pages
Retail Cost: $11.95
Visit http://WealthVirtues.com for more information on the book, links to online bookstores, useful tools, recommended reading, and to view the interview on The Balancing Act.
Wealth Virtues is also available for the Kindle at http://amzn.to/wealth-virtues-kindle
About the Author:
James Ward is wealthy. Not "John D. Rockefeller wealthy," but rather, has more money flowing in than flowing out. He is or has been a successful computer scientist, Coast Guardsman, Army officer, analyst, musician, graphic designer, skier, manager for a defense contractor, business owner, and a writer. He is also a successful investor, but lives well within his means. As the owner of Poor Richard Web Press, he helps businesses, non-profits, and individuals succeed with their Internet marketing goals. He also helps other writers and authors with free online marketing tools at BiblioScribe.com, and is a contributor to First Book, an organization that provides new books to children in need. Although his savings and investments continue to grow from the continual practice of Dr. Benjamin Franklin's Thirteen Virtues while following the Cycle of Positive Wealth©, he realizes that his only true and most valuable treasure is his family and friends.
# # #