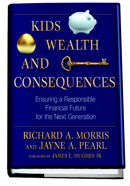 Many parents also worry about whether they will be able to leave behind assets to charity or their children.
Chicago, IL (Vocus/PRWEB) March 03, 2011
Investors who are worried about whether or not they will outlive their portfolios have a new online tool, the Intergenerational Equity Calculator, created by Richard Morris and Jayne Pearl, authors of Kids, Wealth, and Consequences: Ensuring a Responsible Financial Future for the Next Generation (Bloomberg, a Wiley imprint, 2010).
"One of the effects of the Great Recession is that investors, many of whom have yet to completely recover their losses, are rethinking their assumptions about what portion of their portfolios they will be able to withdraw to support their families," say Morris and Pearl. "Many of them also worry about whether they will be able to leave behind assets to charity or their children."
The authors' Intergenerational Equity Calculator enables individuals to input their assumptions about long-term inflation, long-term average investment returns net of fees, and personal income taxes, to see how different spend rates (annual spending as a percent of net worth) will impact the value of their future assets in 20 and 40 years.
Many investors have long assumed they will be able to spend about 5% of their portfolio's net worth and sustain their standard of living until their death. This is the benchmark most endowments, which do not pay taxes, have distributed each year with the long-term goal of not eroding the value of the funds. Individuals often assume they can spend at the same rate. But because they do pay taxes, if they spend 5% they will deplete their assets much earlier than they had assumed.
Morris and Pearl point out that the federal and state governments' assumptions about sustainable spend rates are also proving to be overly optimistic for everything from Social Security to state pensions, as those retirement funds are running out much faster than they had predicted. Many investment advisors and analysts adjusted their estimated sustainable spend rates down to 4% after the financial meltdown. "Even that number may be way too high," say the authors.
They point out that the Intergenerational Equity Calculator helps people determine what lifestyle they may be able to afford in the future. "Many people find that based on their assumptions, they actually may run out of money before they die if they keep spending at their current rate. Due to continuing uncertainty of the economy—affected by state, national and international events—we believe a suitable spend rate for many people is below 2%, and can dip below 1% of their portfolio depending on each individual's long-term goals."
Visitors can test how different assumptions, such as higher or lower investment returns, inflation and tax rates will affect their portfolio's ability to continue to fund their lifestyle. Additionally, the calculator will help wealthy individuals identify if they can leave behind any Intergenerational Equity for their kids—a legacy of some lifestyle. In addition to the Intergenerational Equity Calculator, the Kids, Wealth, and Consequences website offers three other calculators:

The Keeping Up with Inflation Calculator assumes that an investor's spend rate will keep up with inflation each year, to determine the effect that is likely to have on his or her portfolio.
The Annual Contribution after Spending Calculator additionally factors in any funds an individual intends to add to the portfolio from active work, entrepreneurial efforts or windfalls.
The Family Business Growth Calculator helps family business owners see how much their company needs to expand its profits in order to support future generations at the same standard of living the family currently enjoys.
Kids, Wealth, and Consequences helps affluent parents and their advisors understand how affluence affects children's future success, happiness and motivation. The book explores everything from how and when parents should talk to their children about the often-uncomfortable topic of money to what affluent families can learn from the economic meltdown about spending, saving and investing to help them better prepare themselves and their children to survive in any economic environment.
Jayne Pearl is a journalist and entertaining speaker, focusing on family business and financial parenting. She is author of Kids and Money: Giving Them the Savvy to Succeed Financially (Bloomberg Press) and has co-authored or ghost-written ten other books. Jayne began her career at Forbes and was former senior editor of Family Business magazine, to which she has contributed for 20 years.
Richard Morris is an adjunct professor at the Lake Forest Graduate School of Management and is principal of ROI Consulting, helping family owners expand and pass down their business to subsequent generations. Previously, he worked at his family's 80-year-old privately held company, Fel-Pro Incorporated, managing Marketing and then Acquisitions, and serving on the Board of Directors until its sale in 1998.
Join the Financial Parenting Community
Read the first chapter
Reviews
Press Coverage
###