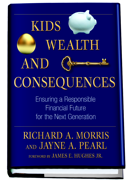 Excessive allowance will teach kids to live a lifestyle that will likely be way beyond their means when they get out of college and land their first job.
Chicago, IL (Vocus/PRWEB) March 07, 2011
With a growing number of teens and young adults—even in wealthy communities—mishandling their spending and credit cards, financial parenting experts Richard Morris and Jayne Pearl have created $mart $kills Allowance and Budget Controls (ABCs) spread sheets that are free and downloadable for parents and students.
Morris and Pearl, authors of Kids, Wealth, and Consequences: Ensuring a Responsible Financial Future for the Next Generation (Bloomberg, a Wiley imprint, 2010), explain, "Failing to impart financial skills, discipline and values to children can have dire consequences. Parents need tools to help their coming-of-age children avoid some of the pitfalls that are getting many young adults off on the wrong foot."
On average, Sallie Mae says college students carried 4.6 credit cards and maintained outstanding balances of $3,173 in 2009, up 46% from five years earlier. Only 17% paid off their balances in full each month. "Many students are paying finance charges to live beyond their means—a dangerous habit," say Morris and Pearl. "Soon-to-be college freshmen and first-time job holders are facing a transition that all-too-often they are unprepared for. Helping them set up a budget and teaching them how to use credit cards responsibly will help them avoid graduating college with the equivalent of a mortgage, without the home!"
They add, "Parents must do a better job of preparing their kids." Their $mart $kills Freshman ABCsTM spreadsheet allows parents and teens to sit down together to review the list we've prepared, and customize it to account for their unique circumstances. "Parents can then base the amount of allowance they will pay on their kid's expected expenses. If their student will be working while away at college, allowance can supplement any expenses their paycheck will not cover. Even wealthy parents should consider basing allowance on estimated expenses. Giving them too much allowance may have unintended consequences."
Morris and Pearl, who have spoken to many parents and kids, note, "We've heard college kids say that there were kids in their dorm who received a $2,000 allowance each month. They would often buy pizza for the entire floor. This excessive allowance is teaching those kids to live a lifestyle that will likely be way beyond their means when they get out of college and land their first job. That $24,000 annual allowance—more than half of the $46,000 average expected starting salary for a 2011 graduate—is mostly for discretionary purchases. When such a student gets into the real world, it will be a rude awakening," explain Morris and Pearl. "Then most of their salary will need to pay for nondiscretionary items such as food, housing and utilities and they will no longer be able to pay for discretionary items. Their standard of living will plummet."
Morris and Pearl suggest that parents tell their kids to list everything they think they will need in college, from laundry soap to paper for their printer, and then sit down and discuss the list. What is missing, is their pricing on target? "This is a great way to see how aware your kids are of the real world," say the authors. "This discussion, which should include the topic of financial values, could be a great learning experience for both parents and children."
Two other free $mart $kills spread sheets include:

The $mart $kills First Apartment ABCs is tailored for college students who move off campus and face new expenses such as rent, meals and transportation.
The $mart $kills After College ABCs is for recent graduates when they get their first job and apartment.
"Parents would be wise to make their kids know what the costs will be," say Morris and Pearl. "Putting their kids in charge of paying the bills and managing the money rather than doing it for them will help them learn how to prepare for being independent."
Kids, Wealth, and Consequences helps affluent parents and their advisors understand how affluence affects children's future success, happiness and motivation. The book explores everything from how and when parents should talk to their children about the often-uncomfortable topic of money to what affluent families can learn from the economic meltdown about spending, saving and investing to help them better prepare themselves and their children to survive in any economic environment.
Jayne Pearl is a journalist and entertaining speaker, focusing on family business and financial parenting. She is author of [Kids and Money: Giving Them the Savvy to Succeed Financially (Bloomberg Press) and has co-authored or ghost-written ten other books. Jayne began her career at Forbes and was former senior editor of Family Business magazine, to which she has contributed for 20 years.
Richard Morris is an adjunct professor at the Lake Forest Graduate School of Management and is principal of ROI Consulting, helping family owners expand and pass down their business to subsequent generations. Previously, he worked at his family's 80-year-old privately held company, Fel-Pro Incorporated, managing Marketing and then Acquisitions, and serving on the Board of Directors until its sale in 1998.
Join the Financial Parenting Community
Read the first chapter
Reviews
Press Coverage
###