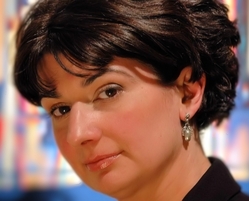 It's an honor to be selected to take part in the White House Startup America event. It highlights just how important partnerships are in the journey to success for a startup like Formotus
Palo Alto, CA (PRWEB) April 20, 2011 —
Following President Obama's online town hall meeting this Wednesday afternoon at Facebook headquarters will be a panel discussion featuring, among others, the technology entrepreneur behind Seattle's Formotus – Adriana Neagu.
"It's an honor to be selected to take part in the White House Startup America event," said Neagu. "It highlights just how important partnerships are in the journey to success for a startup like Formotus."
The panel in which Neagu is participating, expected to start streaming at 4:30 PM PDT, is on the topic "Startup America: Winning the Future through Entrepreneurship". Moderator of the panel will be Scott Case, Chief Executive Officer of the Startup America Partnership and co-founder of Priceline.com.
Details on the panel discussions to follow Obama's town hall can be found on the blog of the Startup America Partnership organization at http://www.startupamericapartnership.org/blog/big-week-startup-america-partnership-and-white-house
"From the beginning we have benefited from partner programs such as Microsoft's BizSpark One," said Neagu, "which gave us early market exposure and access to important technologies. More recently, as we began ramping up to rapid growth, Astia has been a central partner in connecting us with a network of advisors and investors."
About the Startup America Partnership: The Startup America Partnership is an independent, private-sector coalition of major corporations, advisors, funders, service providers and mentors working to dramatically increase the prevalence and success of American entrepreneurs. The Startup America Partnership is focused on bringing the private sector together to maximize the success of America's entrepreneurs – and maximize America's competitiveness in an increasingly global world.
About Formotus: Formotus, Inc. is a small company with a big solution for enterprise mobility. We created the Formotus mobile business application platform to enable businesses of any size to create, deploy and manage the lifecycle of dynamic mobile business forms on many kinds of devices including iPads and Android tablets. Formotus subscriptions are sold through carriers and a growing network of partners. Learn more about how Formotus makes paperless business data fast, easy and affordable.
"Formotus" is a trademark of Formotus, Inc. All other trademarks and registered trademarks are owned by their respective companies.
Contact:
Monica Voicu
Formotus, Inc.
206-973-5060
###