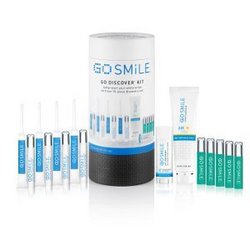 We wanted to give our Facebook fans exclusive access to our new product
Raleigh, NC (PRWEB) April 20, 2011
GoSmile, the Smile Beauty Company, conducted a one-day sales event on their Facebook page that resulted in product sales and a 13% increase in total Facebook fans.
Announced through email, Facebook, and Twitter, the social commerce event promoted the newest addition to their best-selling teeth-whitening line alongside other products in the GoSmile Facebook shop. Hosted using Infused Commerce, the 24-hour event gave fans the opportunity to view and securely purchase selected products without leaving Facebook.
While many fans learned about the sales event through status updates in their newsfeeds, new fans learned about the promotion through social sharing -- the sharing of content on user profiles and through messages.
The fan-only nature of the event encouraged new visitors to "like" the brand in order to participate, providing exclusive access to the new product.
For every 34 "likes", 1 new sale was transacted in the Facebook shop. Revenue generated from the sales event was over 4.5 times the direct cost per "like", making the event profitable while also increasing brand exposure on the social network.
"We wanted to give our Facebook fans exclusive access to our new product," said Meagan French, Director of eCommerce at GoSmile. "We were happy to find that our fans were just as excited to share the new product as we were."
Brands with f-commerce shops -- e-commerce stores on their Facebook pages -- find that they are well-positioned to experiment with marketing promotions that lead to fan growth and sales on Facebook.
About Infused Industries, Inc.
Infused Industries, Inc. provides social commerce solutions that enable e-commerce merchants to sell products on their Facebook pages and in rich media advertising units distributed across the Internet. More information can be found at http://www.infusedcommerce.com.