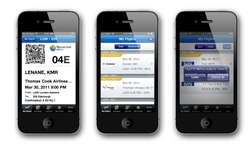 Washington, DC (PRWEB) April 4, 2011
At the Passenger Terminal Expo, PointAbout demonstrated the prototype of a powerful new iOS app being introduced by a major airline services company. The iPhone/iPad app aims to provide a variety of essential services to travelers, both before they reach the airport and once they're in the terminal.
The application enables travelers to manage multiple booked flights, frequent flyer accounts and day-of-travel information from a single app. Within 24 hours of a flight, users can check in and make seat selections. As flight time nears, users may view updated flight status and additional information like weather forecasts and airport terminal maps. The app also replaces a physical boarding pass, as travelers can display a scannable 2D barcode when passing through security or boarding the plane.
While many major carriers offer their own apps, the app PointAbout created offers a multitude of functionalities for all supported airlines. "There's everything a traveler would need in one app," said Kevin Lenane, PointAbout's Director of Mobile Strategy. "Being able to distil what was once many apps into one app is an ideal scenario and eliminates the clutter of too many like-minded apps."
The app has PointAbout's Socialize app component built in, which means the in-airport experience will soon include the ability to instantly tap into a social network comprised of fellow travelers. The app empowers travelers to network on topics otherwise experienced in solitude. If a flight is overbooked or cancelled and the carrier is offering vouchers or alternate flights, travelers will know sooner. Travelers can also connect about topics such as lengths of security lines, best Wi-Fi, best food, or particular experiences with airline representatives. Passengers in a hurry, or those experiencing delays, can consult these crowd-sourced comments and "likes" to decide what to eat or where to shop in the terminal.
"This app does the tricky business of flight booking and boarding pass issuance, earning it a place on all air travelers' phones," said Pete Johnson, PointAbout's President of Professional Services. "The reward for solving this problem will be a wealth of social analytics that provides value to vendors, airlines and airports. The marriage of processing mutli-airline transactions and PointAbout's Socialize will only improve the traveler experience."
Airports and airlines will be most interested in the application, as the app's analytics can help improve the travel experience for a large segment of their customer base. Airport vendors will find value in joining the social network to make special offers or boost their reputation. The social network will prove a highly effective way for airlines to communicate directly with travelers in the terminal.
PointAbout specializes in complex mobile application strategy and development for Fortune 1000 enterprises, with clients that include the Huffington Post, GM/OnStar, Newsweek, Cars.com and many others. PointAbout has deep expertise guiding companies on mobile strategy along with developing native apps for iPhone, iPad, Android, and Windows Phone 7. Socialize adds a social layer to apps, allowing users to share, like, comment on and view other members' activities for richer and more dynamic social-based experiences. In return, app creators can receive analysis, user feedback and reporting so they can consistently improve their apps, promote discoverability and further engage their users. To learn more, contact PointAbout at 202.391.0347 or info(at)PointAbout(dot)com.
###