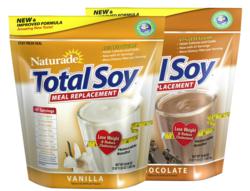 Our customers have been using Naturade Total Soy in a lot of imaginative, delicious-tasting, good-for-you ways
Orange, CA (PRWEB) April 28, 2011
Naturade®, a leading brand in the natural products channel for nearly 85 years, announced today the winners of its nation-wide consumer recipe contest for its flagship Naturade® Total Soy® Meal Replacement powders. The national "Best Recipe Contest" was advertised in Woman's Day, Good Housekeeping and select Parade Magazines throughout September and October 2010 and gave consumers a chance to win an all-expenses-paid cruise for two and a chance to win $25,000 cash.
Naturade® Total Soy® new Chocolate and Vanilla formulas were launched in September 2010, boasting 47% less sugar, fewer carbs per serving and a great new taste. These products contain 13 grams of Soy Protein per serving and are used by consumers to help reduce their cholesterol or to lose or maintain a healthy weight. "The New & Improved" products contain 24 Vitamins and Minerals and are made with both natural and artificial flavors, are lactose-free, gluten-free and contain non-GMO Soy.
Naturade received a very impressive variety of recipe submissions, ranging from smoothies to snacks to dessert ideas. "Our customers have been using Naturade Total Soy in a lot of imaginative, delicious-tasting, good for you ways" said Rick Robinette, Naturade CEO. "We enjoyed reading through the submissions, evaluating each recipe and eventually selecting the top 10 entries, all of which we thought were amazing."
Voting on the 10 finalist submissions took place on the Naturade Total Soy website (http://www.totalsoy.com) and each voter was entered into a Sweepstakes to win a prize worth $1,000. The final results of the contest are as follows:
Grand Prize Winner:
J. Nelson of Crab Orchard, WV with a Pumpkin-Praline Smoothie
Second Prize Winner:
A. Parsons of Parkersburg, WV with a Summer Sun Splashed Refreshing Smoothie
Third Prize Winners:
J. Hilton of Rocklin, CA with a Quick and Easy Blender Chocolate Mousse
S. Bray of Stone Mountain, GA with a Monkey Smoothie
W. Nelson of Crab Orchard, WV with a Figlicious Banana Berry Smoothie
C. Becker of Peoria, AZ with a Orange Cream Dream Smoothie
R. Nelson of Rapid City, SD with a Simple Berry Dessert
Fourth Prize Winners:
T. Harris of Charlotte, NC with Protein Packed French Toast
J. Elfving of Ft. Lauderdale, FL with Ship O'Soy Tropical Oatmeal
A. Zangli of Millington, TN with Naturade® Sunrise Smoothie Shooters
In addition, Naturade wanted to congratulate M. Gauer of Spicer, MN who won the voting Sweepstakes prize.
For a complete description of each of the finalist recipes, please visit Naturade Total Soy Recipes
About Naturade®
Naturade® is a leading supplier of high quality, science-based nutritional supplements and functional food products to the Natural Products trade channel, the Food, Drug, Mass and Club trade channels, as well as the Professional channel. Naturade® has been providing high quality nutritional supplements since 1926. The company markets a number of products under the brands Naturade®, Symbiotics®, ProSymbiotics® and Ageless Foundation Laboratories®. New products from Naturade® include the re-launched flavor of Naturade® Total Soy®, a meal replacement powder, and Vitali-T-Aid, a natural testosterone booster.
###