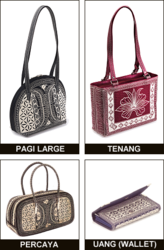 I want to go to Japan and see if there is anything we can do there to mimic what we do with women in Indonesia...
Irvine, CA (PRWEB) May 10, 2011
Laga Handbags is proud to announce that their handmade handbags, made by tsunami survivors, will be featured at Freer Sackler, the Smithsonian's Museums of Asian Arts.
The Smithsonian has two museums of Asian art: the Freer Gallery and the Arthur M. Sackler Gallery, which are connected by an underground passageway and feature a world-renowned collection of art from China, Japan, Korea, South and Southeast Asia and the Near East.
Laga founders, Roy and Louise van Broekhuizen, said they initially met the Smithsonian buyer at a fashion trade show. Recently, the new buyer contacted van Broekhuizen and ordered three styles of handbags and wallet for a special show the museum shops will have on Southeast Asian products.
The Laga project began when Roy van Broekhuizen went to Indonesia January 2005 to direct tsunami relief efforts in the wake of the earthquake/tsunami that took the lives of over 250,000 on the day after Christmas, 2004. The experience and the horrifying destruction transformed him, and wife Louise.
"All they needed was someone to give them a hand," he recalls.
Roy & Louise saw these beautiful hand embroidered handbags in raw form and Louise told Roy she will try to sell those bags in America. They brought samples of handbags and Louise sold them at a home party she had at their condo, and the project quickly grew into a full time business. The van Broekhuizens are living off their investments and putting all profits back into LAGA. In 2009, they sent over $100,000 to Indonesia; rebuilding lives, one handbag at a time.
In April 2010, Laga Handbags was featured on Oprah, and response was awe inspiring. The van Broekhuizens started Laga Handbags with a small team of 12 women and have grown to a team of over 300 women who, in Indonesia, are celebrities in their own right. Through Laga Handbags, they are the hope for a better tomorrow.
With the Smithsonian order shipped, Laga dreams have grown with their accomplishments.
"I would like to go to Japan and see if there is anything we can do there to do what we did with women in Indonesia," van Broekhuizen added in a phone interview. "I have personal ties," he said. "My great grandmother was from Okinawa, Japan."
Laga Handbags and Accessories are sold online for $27 to $439 each, and are also available through independent consultants, online affiliates and at specialty boutiques, museums and gift shops.
For more information, call LAGA headquarters at 949-654-8360 toll free 888-524-2224 or visit Laga Handbags website at http://www.lagahandbags.com.
# # #