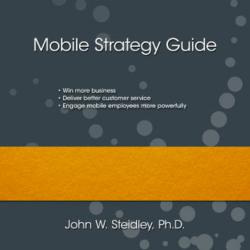 A successful mobile strategy understands how people best perform, even when cut off from the normal flow of information in an office environment. We've implemented these practices with our clients. It simply works." - Dr. John W. Steidley, Ph.D
Solon, OH (PRWEB) September 20, 2011
Intelligent Mobile Support (http://www.iMobileSupport.com/), developers of a cloud-computing platform that provides mobile access to digital media such as documents and video, connectivity to experts and collaborative enterprise social networking tools, announced the distribution of the new book, "Mobile Strategy Guide." The book was authored by Intelligent Mobile Support CEO, Dr. John W. Steidley, Ph.D. Steidley, an author, inventor, and patent holder, developed content for "Mobile Strategy Guide" based on his 25 years of experience supporting field sales and customer service employees across the globe. Long before mobile phones and apps were commonplace, Steidley envisioned a solution that would allow the mobile workforce to be just as connected, informed, and engaged as those in a corporate environment. His book, "Mobile Strategy Guide," is a result of that vision with best practices businesses can implement for a successful mobile strategy.
Steidley introduced a related book entitled "Mobile Learning Guide" at mLearnCon, a mobile learning conference in June 2011 held in San Jose, CA. There Steidley lead a one-hour session called "Mobile Learning for Sales and Service Professionals in Healthcare Markets." His mobile learning guide served as the basis of this invited presentation, which revealed how professionals learn today as compared to 25 years ago. Dr. Steidley shared research which showed that, in 1986, professionals were expected to remember as much as 75% of the information they used on the job; now some estimate that percentage is as low as 10%. Professionals consequently spend a significant amount of time seeking out information. Solutions to these problems as outlined in the "Mobile Learning Guide" present a "new blend" of mobile learning, online learning, and instructor-led training, with the key ingredients incorporating enterprise social networking and on-demand performance support.
Due to the demand for the "Mobile Learning Guide," the book was republished, and adapted for a wider range of industries, and retitled, "Mobile Strategy Guide." Steidley shared, "I'm thrilled to have such a positive response to this book. A successful mobile strategy extends well beyond instant communication with a mobile team. It is all about understanding how people can best perform, even when they are cut-off from the normal flow of information in an office environment. The Mobile Strategy Guide shows how a business can leverage all organizational knowledge to improve their business on multiple levels. The information in this book isn't just theory, we've implemented these practices with our clients―well-known, multi-national companies. It simply works."
"Mobile Strategy Guide" is being distributed by Steidley's company, Intelligent Mobile Support, on a dedicated microsite, http://www.MobileStrategyGuide.com/. The e-book is available to businesses with a mobile sales force, mobile service team, or any remote team that needs to improve their performance.
About Intelligent Mobile Support
Intelligent Mobile Support offers cloud-computing technology that provides just-in-time access to mission-critical information including document sharing, how-to videos, instant access to subject matter experts, and collaborative enterprise social networking capability. The SaaS, or Software-as-a-Service, improves individual and team performance while lowering an organization's operational costs. The software is a web application designed from the ground up to optimally function on smartphones and tablets with additional functionality on legacy desktop or laptop computers. Intelligent Mobile Support has been awarded several honors, including "Best Mobile App" Finalist NEOSA (Northeast Ohio Software Association) Best of Tech Award in 2010 and 2011, "Best of the Test" Winner IT Professionals "Community Choice Award."
To request a software demo, please visit http://www.iMobileSupport.com.
# # #