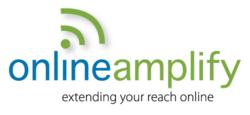 Reading, MA (PRWEB) November 15, 2011
Many agencies are willing to create social media profiles for companies. But OnlineAmplify.com, based in Reading, MA, has introduced innovative programs which help clients learn to effectively use social media on their own. In addition to setting up social media pages, the programs provide ongoing one-on-one coaching to help business managers get comfortable using social media.
Each of the programs includes creation or editing of social profiles in LinkedIn, Facebook, or Twitter, a comprehensive one-on-one tutorial at the client's computer, and a series of coaching support calls. The basic programs, suitable for a business that is managing their social media but wants to improve their effectiveness, include one 20 minute call monthly for three months. The higher-end programs offer a weekly call for three to six months. "These programs guide business managers in building the social media routine and provide a helping hand with the process," says Online Amplify President Nancy Wolff Leary. "We work as a team."
The partnership starts with the tutorial and continues with the ongoing coaching calls. As the client's comfort level with social media marketing increases, subsequent calls offer more advanced tips and tools. Navigating the social media sites is not always an intuitive experience, and having support readily available can reduce barriers to building the routine. "The learning is actualized when the client's hands are on the keyboard," Leary says.
In working with business clients, Leary found that often, the myriad of everyday priorities required to run a business made the social media learning curve too steep. Responsiveness and maintaining cadence are essential to achieving success in social media. "Despite their best intention to get active on social media, the task often fell to the bottom of the client's list. Rather than creating an online presence for clients that wouldn't be effectively managed, I realized that like any business priority, we had to schedule time to dedicate to it," Leary says. The new programs were a direct outgrowth of this insight.
While the new programs focus on the coaching component to help clients learn social media, Online Amplify also supports clients who want to offload their social marketing to the experts. The company offers customized solutions which include maintaining a client's social media presence, posting on their behalf on various social media sites, and writing content for blogs and email newsletters.
To learn more about the new social media programs or other services offered by Online Amplify, visit http://www.OnlineAmplify.com.
About Online Amplify
Online Amplify specializes in website optimization, content creation, and social media marketing, working with companies to improve their online presence and bring visibility to their websites. The company offers workshops around the Boston area and provides learning tips and insights in a quarterly email newsletter. Online Amplify can also be found on Facebook and posts as @onlineamplify on Twitter.
Contact Information
Nancy Wolff Leary, President
Online Amplify
781 844 9148
http://www.OnlineAmplify.com
# # #