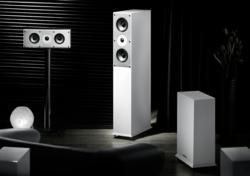 These high end loud speakers are designed to bridge the void between audiophile performance and lifestyle design.
Sydney. NSW (PRWEB) July 09, 2011
Audio Visual Revolution Pty Ltd is proud to announce Wharfedale's new Onyx series of hi-fi loud speakers – designed to bridge the void between audiophile performance and lifestyle design, Onyx is a fusion of ability and the very coolest modern aesthetics.
Onyx represents a fiery passion - a multi-layered, deep and complex gem. The Onyx loudspeakers have been designed with the same passion and dedication as a fine musical instrument. Every aspect of performance has been honed to enhance the presentation and lucidity of the sound image created. Both realistic and exciting, Onyx is a harmonious balance of craftsmanship and technology.
The range consists of two floor-standing models a stand-mount speaker with a matching dedicated stand, two centre channel models, and a subwoofer.
Engineered as a prestige range, Onyx couples the acoustic refinement and experience of the world
famous Wharfedale Evolution series with an ultra-modern deep gloss aesthetic. Onyx is a definitive lifestyle and forms a focal point, not only within a hi-fi system but also within the overall interior décor of a room.
The floor-standing Onyx 300 and 200 models both feature Wharfedale's wide dispersion side firing bass drivers. Developed exclusively for this application, this new generation of low-profile drivers have a near 360 degree radiation profile, allowing them to integrate seamlessly with the front firing speakers. Through careful positioning these side-firing units can be used to augment the in-room bass response. Positioning them to fire towards side-walls can increase in-room bass response by around 6dB, whilst if positioned to fire inwards, they produce a more-dynamic, tauter performance.
Power is meaningless without control. No more so is this true than in drive unit design. Every aspect of performance requires a perfect balance of power and control – The refinement and clarity of the Onyx series is the perfect embodiment of this philosophy
These hi fi speakers are available from your nearest Authorized Wharfedale retailer for;
Onyx 300 Floor-standing speakers - $2,649.00
Onyx 200 Floor-standing speakers - $2,149.00
Onyx 100 Bookshelf speakers - $999.00
Onyx Centre2 Centre Speaker - $749.00
Onyx centre1 Centre Speaker - $649.00
Onyx Subwoofer - $1,149.00
###