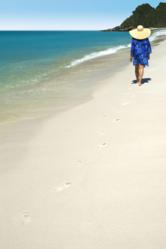 We want to offer caregivers a break – a time to rejuvenate body and soul.
Omaha, NE (PRWEB) June 07, 2011
Last year, Christie Rider, a caregiver who moved her family into her 94-year-old grandmother's house to care for her after a fall, was nominated by her daughter Tiffany Rider-Moore and won the 2010 Caregiver Cruise Getaway Contest.
Christie, who was named after her paternal grandmother, Christine, became her grandmother's primary caregiver after the older woman lost both of her adult sons – Christie's father to cancer and his brother to an apparent massive heart attack. Rider had been providing increasing assistance for her grandmother, traveling 20 minutes from her home in Lynchburg, VA, every day to prepare breakfast and lunch, and put a meal in the crock pot for dinner.
"She's the type of person who doesn't take time for herself and puts herself last. We always did vacations every summer and the last couple of years she was not able to go or her time away was cut short. I nominated her so that she could have a vacation of her own. I was very surprised when she won. It's awesome. She's never been on a cruise and this never would have happened otherwise," said Rider-Moore.
A five-year study conducted for the Home Instead Senior Care® network revealed that stress can have a devastating impact on family caregivers. Fifty-eight percent of caregivers say they are getting ill more frequently and that caregiving is taking a toll on their jobs; 81 percent say their loved ones' needs are becoming overwhelming.
Family caregivers like Rider know what a treat it is to simply have a break from the fulfilling yet demanding rigors of caregiving. So those caregivers, as well as their friends and families, can visit the 2011 cruise sweepstakes Webpage before the July 14, 2011 deadline to enter or nominate someone else for the drawing, which will take place July 22, 2011.
The five-night, six-day Caregiver Cruise in the Caribbean is scheduled for January 21 to January 26, 2012. In addition to the cruise and airfare to and from the cruise port – for one caregiver and one guest – the winning recipient will receive 40 hours of free care from a Home Instead Senior Care professional CAREGiver℠ for their senior loved one while they are away.
As an additional bonus, friends or family who nominate a caregiver for the contest are entered into a separate drawing for a laptop computer and camcorder. Also as an added incentive, the nominee can share their story with family and friends and ask that they vote for their story. The nominee whose story gets the most votes will win an iPad.
"At Home Instead Senior Care, we recognize the dedication and hard work required to provide care for a loved one, and we understand how stressful caregiving can be," said Paul Hogan, co-founder and chairman of the Home Instead Senior Care network. "That's why we want to offer caregivers a break – a time to rejuvenate body and soul."
Home Instead Senior Care also sponsors the Caregiver Stress Website, which contains tips and resources to help make family caregiving a more rewarding and loving experience.
About Home Instead Senior Care
Founded in 1994 in Omaha by Lori and Paul Hogan, the Home Instead Senior Care® network is the world's largest provider of non-medical in-home care services for seniors, with more than 900 independently owned and operated franchises providing in excess of 45 million hours of care throughout the United States, Canada, Japan, Portugal, Australia, New Zealand, Ireland, the United Kingdom, Taiwan, Switzerland, Germany, South Korea, Finland, Austria, Italy and Puerto Rico. The Home Instead Senior Care network employs more than 65,000 CAREGivers(SM) worldwide who provide basic support services – activities of daily living (ADLs), personal care, medication reminders, meal preparation, light housekeeping, errands, incidental transportation and shopping – which enable seniors to live safely and comfortably in their own homes for as long as possible. At Home Instead Senior Care, it's relationship before task, while continuing to provide superior quality service that enhances the lives of seniors everywhere.
# # #