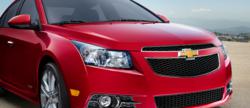 It's important for us to show we care about what happens in our community and the Chevy Drive for Perfection is a great motivator for students to go and stay in school.
Atlanta, GA (PRWEB) June 16, 2011
Doing the right thing can change a life. For Kegan Isaack and his family, it was this high school senior's commitment to his education. By achieving perfect attendance this past school year at The Heritage School in Newnan, Ga., Kegan was one of more than 3,700 metro-Atlanta high school seniors eligible to recently win a new Chevrolet Cruze as part of the Chevy Drive for Perfection program.
In an effort to support local high school seniors and their quest for graduation, Chevrolet has designed a program that will help motivate and challenge students to achieve a perfect attendance record. In its first year in Atlanta, Chevy Drive for Perfection is an initiative presented by Chevrolet and the Georgia Best Chevy Dealers. All high school seniors attending a sponsored high school who achieved a 98% or better attendance record (as determined by the Board of Education) were eligible to win a New Chevrolet Cruze.
"You have some that say, 'Hey, you're doing the right thing,'" said Kegan Isaack, winner of a 2011 Chevrolet Cruze as part of the Chevy Drive for Perfection program. "Then you have some that are like, 'Oh, you're such a nerd." These were some of the reactions of Kegan's classmates at The Heritage School, but all of his hard work has paid off as he will no longer have to drive his Mom's 15 year-old Honda with 260,000 miles.
According to the U.S. Department of Education, students who have poor attendance for reasons other than illness are also more likely to drop out and fall behind their peers in the classroom. The Chevy Drive for Perfection program was created to give seniors an additional incentive to finish their high school careers strong in order to adequately prepare for post-secondary education or the workforce.
Literacy and education are two initiatives that Atlanta Chevrolet dealership Jim Ellis Chevrolet champions through its support of several initiatives in the Atlanta area. The Chevy Drive for Perfection program consists of sponsoring two local high schools within the area with the goal of increasing high school attendance, parental participation, and contributing financially to the designated high schools. As part of the program, participating dealerships support a number of school activities and community events throughout the school year, including Friday night football games, parades, school dances and pep rallies.
This year alone, Jim Ellis Chevrolet partnered with two local high schools and had an impact on the lives and education of hundreds of local high school seniors. "Jim Ellis Chevrolet is proud to be associated with Chamblee High School and Dunwoody High School.", said Mark Frost of Jim Ellis Chevrolet. "We're excited to offer a program through which students, parents, administrators and the community can work as one to achieve a brighter future. It's important for us to show we care about what happens in our community and the Chevy Drive for Perfection is a great motivator for students to go and stay in school."
The sponsored high schools also received monetary support for educational programs. In addition to a donation check, they had the opportunity to raise additional funds by promoting a Test Drive Campaign, an initiative where each school received monetary donations for each person that test drove a Chevrolet vehicle at their sponsoring dealership. The monetary funds help ease the shortage of economic funds and contribute t o the purchase of new computers and school supplies.
Chevy Drive for Perfection has sponsored over 700 schools and given away 10 Chevrolet vehicles to selected seniors throughout the entire Southeast region during the 2010-2011 school year.
The Chevrolet Cruze offers buyers more value for the dollar than any compact car along with more standard equipment, more miles per gallon, and award-winning safety ratings. The Cruze achieves up to 42 mpg on the highway – the segment's best fuel economy – with the Eco model. All Cruze models are equipped with comfort and convenience features, including: air conditioning, and power locks with remote keyless entry, OnStar with Turn-by-Turn Navigation, XM Radio with three-month trial subscription, AM/FM single-CD radio, six-speaker stereo system, passenger seat height adjustment, and a 60/40 split folding rear seat. Cruze starts at an MSRP of $16,995 including destination, with the most standard equipment in its class.
About Chevrolet
Chevrolet is a global automotive brand, with annual sales of about 3.5 million vehicles in more than 130 countries. Chevrolet provides consumers with fuel-efficient, safe and reliable vehicles that deliver high quality, expressive design, spirited performance and value. In t he U.S., the Chevrolet portfolio includes: iconic performance cars, such as Corvette and Camaro; dependable, long-lasting pickups and SUVs, such as Silverado and Suburban; and award-winning passenger cars and crossovers, such as Malibu, Equinox and Traverse. Chevrolet also offers "gas-friendly to gas-free" solutions including the Cruze Eco and Chevy Volt, both arriving in late 2010. Cruze Eco will offer up to 40 mpg highway while the Chevrolet Volt will offer 25-50 miles of electric, gas-free driving and an additional 310 miles of extended range (based on GM testing; official EPA estimates not yet available). Most new Chevrolet models offer OnStar safety, security, and convenience technologies including OnStar Hands-Free Calling, Automatic Crash Response, and Stolen Vehicle Slowdown. More information regarding Chevrolet models, fuel solutions, and OnStar availability can be found at http://www.chevrolet.com.
###