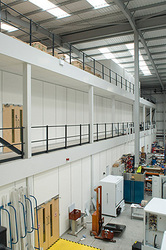 As mezzanine floor manufacturers, we were able to offer our clients a high degree of flexibility and adaptability so that any specification changes made through the projects had minimal disruption to the duration and cost of the overall projects
(PRWeb UK) March 16, 2011
Coral Mezzanine has completed another prestigious mezzanine floor project for Edmund Bell Ltd on the new Kingsway Business Park in Rochdale.
The mezzanine floor was designed by Coral Mezzanine who worked closely with the client to provide a bespoke design solution which met their specific design brief and budget .The extra space created by the installation of a 725m² (7,800ft²) mezzanine floor has created extra space for offices, allowing Edmund Bell to continue with their planned expansion.
The mezzanine floor at Edmund Bell is the second high profile project completed by Coral Mezzanine on the Kingsway development. In 2008 they designed, manufactured and installed two mezzanine floors at Vindon Scientific, prior to their relocation. The main structure was a 2,570m²(28,000ft²) two tier mezzanine floor, with a secondary 200m² (2,100ft²) mezzanine floor, giving a combined increase of floor space of 2,770m (30,100 ft²) .
Coral Mezzanine was involved with this project from the outset, working closely with the client and the builders to ensure the optimum design was created to satisfy Vindon's specification, time frame and budget. During both mezzanine floor installations Coral Mezzanine managed the projects in detail, acting also as principle contractor throughout the builds and ensuring the strictest adherence to CDM regulations.
John Aspinall, director at Coral Mezzanine says of the projects "It was a privilege to work on another high profile project on Kingsway Business Park. Both were bespoke design solutions that enabled the client to maximise their space and resources. As mezzanine floor manufacturers, we were able to offer our clients a high degree of flexibility and adaptability so that any specification changes made through the projects had minimal disruption to the duration and cost of the overall projects"
###