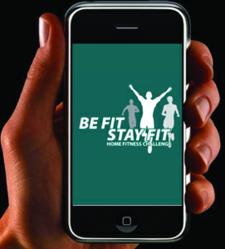 (PRWEB) September 09, 2011
Leisure Fitness, a Specialty Home Fitness Equipment retailer with 16 locations from Northern New Jersey to Washington, D.C., has launched the 'Be Fit, Stay Fit Challenge' iPhone App. The App is designed to promote healthy and active lifestyles by making it easy and rewarding for people to track their daily fitness activities using the device people can't live without, their smart phone!
The Be Fit, Stay Fit App is available for free at iTunes. To get started is simple; download the App from iTunes to your iPhone, register for the Challenge, create a personalized user profile. Once you have created a user profile, you can begin logging your exercises and earning entries for the current drawing. Logging your exercises is also simple; select an activity, select an intensity level, enter the amount of time spent performing the activity. Once entered, all of your workout logs are retained on the site so that you have the ability to look back at your activity and assess your progress.
Every day that you enter your activity into the activity log, you are automatically registered to win the giveaways. The more entries into your activity log, the more opportunities you have to win (limit of 1 entry per day; see rules and guidelines). Giveaway dates and prizes are posted on the official Challenge website. The most recent giveaway was a Diamondback 510Ub Upright Exercise Bike with an MSRP of $599.
About Us: Leisure Fitness operates under the philosophy that to reach a wellness destination people must have motivation and education. The prizes given away as part of the Be Fit, Stay Fit – Home Fitness Challenge provide motivation that many people need to start and maintain a fitness program. To meet the education needs of participants, Leisure Fitness maintains a wealth of information on the Wellness section of its website, and provides a professional, educated staff of fitness experts that are always available to answer questions.
###