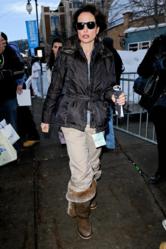 Every magazine I open is dedicated to bold trends such as tassels and fringes and some not so bold trends such as the exotic metal of rose gold.
Los Angeles, CA (PRWEB) February 22, 2011
Now that New York Fashion Week has ended, it is time to nurse feet from too-tall designer shoes, relax, and take stock of the most spectacular sparkly items from the runway: the jewelry. Jewelry designer Aneela Manori, co-founder of Los Angeles-based London Manori, has lent her expert eye to analyzing the must-have jewelry trends for the upcoming year, and says there was a wide variety of styles on display this year.
"Every magazine I open is dedicated to bold trends such as tassels and fringes and some not so bold trends such as the exotic metal of rose gold. No matter what type of person you are there surely is something to suit your style this year," says Manori. "It's imperative to know the trends of each season, especially if you have a flair for current fashion."
Some of the jewelry trends for 2011 included in London Manori's cheat sheet of trends are bright colors; motif jewelry; textured jewelry; and massive, dramatic, and heavy metals. The trends continue with pearls, antique, vintage and retro styles, chandelier earrings and "green" eco chic designs.
Motif jewelry is a design that London Manori knows and does well. "Multicolored birds, amusing spiders, sensual snakes and other motifs inspired by nature are finding their way onto fingers, wrists and necks," says Manori, "So indulge, these conversation starters are very trendy and may inspire you to brighten up other pieces of your wardrobe." London Manori offers motifs inspired by nature, such as leaves and dragons in their 2011 line. Actress Andie MacDowell was recently spotted in London Manori's leaf earrings at the Sundance Film Festival.
Another trend that London Manori is not afraid to dive into is textured jewelry. Texture brings to life the cold components that go into the physical piece of work. It can change the way jewelry feels, looks, moves and how the light reflects off it. Hammer cuts and diamond cuts give a polished piece an edgier quality. This trend is found throughout London Manori's exquisite collection for 2011. Actress Tina Rodriguez recently showed off an eye-catching pear-shaped emerald ring.
For more information about upcoming jewelry trends and to purchase London Manori products, call them at (213) 785-6845, view their website at http://www.londonmanori.com/, or visit one of their Los Angeles-area stores. For a list of retail locations, please visit http://www.londonmanori.com/stores.html.
About London Manori
London Manori is a Los Angeles custom jewelry designer and manufacturer. By combining unique designs and state-of-the-art techniques, they create an exceptional collection of fine jewelry with unmatched quality and precision. They design and sell a wide assortment of necklaces, rings, charms, bracelets, and jeweled leaves.
# # #