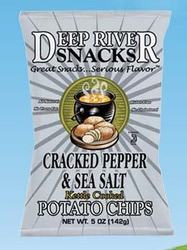 "Jim told me his story and that was enough for me."
Medford, MA (PRWEB) April 6, 2011
Now you can learn about Mito while enjoying a delicious snack. Deep River Snacks, the Connecticut-based snack maker, is raising awareness about mitochondrial disease by featuring MitoAction on its Cracked Pepper and Sea Salt Kettle Cooked Potato Chips. MitoAction's logo, website, and a short description grace the bags, which can be found all over the world.
"I am eternally grateful to Jim Goldberg for doing this," said Deep River Snacks distributor Jim Joyce, whose son and wife have mitochondrial disease. "He found a way to reach millions of people." When Goldberg, founder and CEO of Deep River Snacks, heard about Joyce's son, Ryan, 12, and wife, Becky, he wanted to do something. "It just made sense," Goldberg said. "Jim told me his story and that was enough for me."
Ryan, who has mitochondrial myopathy complex 1, is an inspiration. "He's smart, he's very positive," Jim Joyce said. He even earned a black belt, five minutes at a time. Becky, who runs a shoe store, is not letting Mito keep her down, either.
"When Deep River Snacks found out about my son and wife, they thought they should bring attention to mitochondrial disease," Joyce said. "There needs to be more awareness. There are millions and millions of Cracked Pepper and Sea Salt chip bags. If there wasn't awareness before, there will be now."
When Goldberg wanted to learn more about the disease, Joyce directed him to MitoAction.org. "It's the one organization that represents the disease properly," he said. That led to the small Boston-based nonprofit being featured on the chip bags. MitoAction's mission is to improve the quality of life for everyone affected by mitochondrial disease through support, education, outreach, and advocacy initiatives. Deep River Snacks' mission is offering delicious snacks and giving back.
"We're continually thinking of how we can give back," said Debbie Barden of the Deep River Snacks marketing department. According to the company's website: "We understand that we have a responsibility to our planet and to people who aren't as lucky as we are. That's why we choose to give back."
Deep River Snacks supports 15 charities on 15 different flavors of chips. "All I care about is trying to do something good," Goldberg said.
# # #