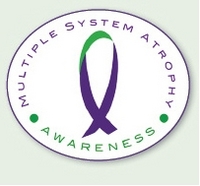 Novel research to diagnose this debilitating illness sooner and to separate it from Parkinson's and other disease is critical for creating a better future for MSA patients
Anywhere, U.S. (PRWEB) March 10, 2011 —
There are no Hollywood celebrities linked to MSA (Multiple System Atrophy)—just more than 2,300 fans known on Facebook as "Miracles for MSA," whose goal is to draw attention to this rare, currently incurable disease. With that in mind, this group has designated March as Multiple System Atrophy Awareness Month, in order to increase public awareness and encourage research activities worldwide. The SDS/MSA Support Group, a nonprofit organization located in the United States is working in concert with "Miracles for MSA" to further enhance national awareness and to raise money for awareness, education and research.
Multiple System Atrophy is a neurodegenerative disorder that affects the autonomic nervous system that people take for granted. The symptoms can occur in any combination, from loss of balance and coordination, fainting and dizziness due to neurogenic orthostatic hypotension (severe low blood pressure), bladder and bowel issues, speech and swallowing difficulties, sleep disturbances, breathing problems, and rigidity and tremors similar to Parkinson's disease or ALS.
"We all worked hard in our jobs and now we have to work hard to keep ahead of this disease that destroys," said MSA patient Gene Rechsteiner, of Bakersfield, California. "My hopes are to bring awareness and educate people on how bad MSA is and finding funds for research to find a cure. The medical society needs to realize that for each MSA patient, there are at least a dozen doctors in different fields that will be treating that patient: Primary, neurology, urology, speech, PT, OT, pulmonology, fitness trainer, caregivers, just to name a few. MSA sucks. You lose your independence along with your health. There are only a couple of hours in the day that I am able to function safely. The rest of the day I have to nap, watch my blood pressure. MSA took my career. We cannot stay safely in our home. And now it is eating into our retirement. My wife no longer works in order to care for me 24/7. But we cannot give up hope."
Previously known by such names as Shy-Drager Syndrome, sporadic olivopontocerebellar atrophy and striatonigral degeneration, MSA is not considered to be hereditary. It generally affects middle-aged men and women, advancing rapidly, with progressive loss of motor skills, eventual confinement to bed, and death. It is very rare for someone to live 15 years with MSA. There is no remission from the disease and currently no cure. The current lack of awareness of MSA leads to misdiagnosis and mistreatment, as well as misdirected research funding that could be better applied to the MSA efforts.
Approximately 50,000 Americans are now reported to have MSA (possibly more). A recent epidemiological survey, reported on the European MSA Study group website, has found MSA to have a prevalence rate of 4.4 people per 100,000. Those are the clinical facts of MSA. But they don't begin to address the havoc the disease wreaks not only on patients but also on family members, caregivers and friends, who watch their once vibrant loved one gradually lose all those abilities once taken for granted. It is the goal of all those who have been affected in some way by this disease to draw attention to it, not only during March but also throughout the year.
"Novel research to diagnose this debilitating illness sooner and to separate it from Parkinson's and other disease is critical for creating a better future for MSA patients," said Dr. Anna Langerveld, who owns Genemarkers of Kalamazoo, MI. "An important first step was taken in 2009 with a pilot study to define a genetic signature of MSA in patient blood samples. The initial work was a collaboration between Genemarkers, Dr. Charles Ide of Western Michigan University and Dr. David Robertson of Vanderbilt University Medical School. Efforts have begun to design and fund a new study to extend and improve these findings. Success will require continued scientific and financial participation from all interested groups. Our passion and the data generated in the ongoing work will expand awareness of MSA, draw more scientists and physicians into our efforts, and begin to bring hope to MSA patients and caregivers."
For more information on Multiple System Atrophy, including links to MSA organizations and research groups worldwide please visit http://www.MSAawareness.org. To join the "Miracles for MSA" Facebook page, visit http://www.facebook.com/pages/Miracles-for-MSA/138909258573
About Multiple System Atrophy
According to the National Institutes of Health, "Multiple system atrophy (MSA) is a progressive neurodegenerative disorder characterized by symptoms of autonomic nervous system failure such as fainting spells and bladder control problems, combined with motor control symptoms such as tremor, rigidity, and loss of muscle coordination. MSA affects both men and women primarily in their 50s. The disease tends to advance rapidly over the course of nine to 10 years, with progressive loss of motor skills, eventual confinement to bed, and death. There is no remission from the disease. There is currently no cure." Multiple System Atrophy encompasses disorders previously known as Shy-Drager Syndrome, striatonigral degeneration and sporadic olivopontocerebellar atrophy. For more details about Multiple System Atrophy please see the National Institutes of Health MSA factsheet.
About the SDS/MSA Support Group
The SDS/MSA Support Group is a 501c3 nonprofit devoted to fostering an ongoing relationship between patients, caregivers, their family members, and medical professionals. The Support Group is one of the most sought-after resources for those dealing with the disease. Services and education offered by the group include an annual patient/caregiver national meeting (the next meeting is scheduled in Dallas, TX on October 28-29, 2011), webinars, educational materials and a toll free hotline (1-866-737-5999) designed to offer much needed emotional support for patients and caregivers. For more information please contact Vera James at 1-866-737-5999 or visit the official SDS/MSA Support Group website. To make a donation please visit our website or send a check to:
SDS/MSA Support Group
8311 Brier Creek Parkway
Suite 105-434
Raleigh, NC 27617
About "Miracles for MSA" on Facebook
Miracles for MSA is a social networking group on Facebook dedicated to uniting people affected by Multiple System Atrophy. The group enables patients, caregivers, family members and friends to join a community, discuss a range of topics about the rare disease and to advocate for disease awareness and research. To further generate awareness and education the group has launched a website that is open to all MSA organizations worldwide, a resource for all MSA connections. The website address is http://www.msaawareness.org. You can also join the "Miracles for MSA" Facebook page.
###