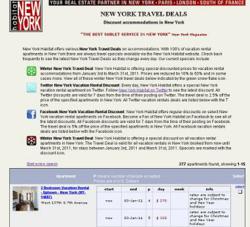 New York, NY (PRWEB) November 24, 2010
New York is one of the most expensive cities in the world to travel to but New York Habitat is working with apartment owners to offer special price for vacation rentals during the winter of 2011. The company is offering 10% off the agency fees of all apartments rented between January 3rd, 2011 and March 31st, 2011. In addition many owners are offering an extra 10 to 50% off their apartments during the winter sale.
Winter in New York is a great time to see the city with fewer crowds, shorter lines and some great activities to enjoy including:

Enjoying Rockefeller Center Ice Rink after the Holiday crowds.
Visiting the Wine Expo at Javits Center
Checking out the sales at New York's famous department stores winter sales
More great winter travel tips for New York can be found in the New York Habitat blog.
New York Habitat offers a wide variety of vacation rentals in townhouses, bed and breakfasts and hotel alternatives. Some of the vacation rental options that are available in New York during the winter sale include:
New York Habitat's 2011 winter travel sale offers the best deals on New York City apartments and accommodations. Look for apartments marked with discount prices for rentals between January 3rd and March 31st, 2010. The company offers other travel deals throughout the year including promotions on facebook and twitter as well as other seasonal discounts, but the winter discount is one of the best sales. All of New York Habitat's New York vacation rental specials can be found on the New York Travels Deals website.
New York Habitat has been in the New York furnished apartment market since 1989 and also offers apartment rentals in Paris, London and the South of France. Being a multinational company, New York Habitat excels in catering to people from around the world. With a team of multilingual agents working around the world, New York Habitat is able to provide clients with a selection of more than 12,000 apartments and houses that are available from one day up to one year or more.
Travel to New York this winter and enjoy a special price on a vacation rental apartment from New York Habitat.
###