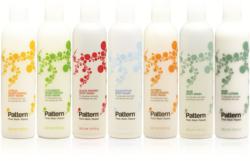 We created Pattern for people that think about what they put on their skin.
Denver, CO (PRWEB) May 24, 2011
Pattern announces a promotional campaign to give a free, full-size set of Pattern products to one member of their Facebook "Like" list. The complete set of Pattern products has a value of $146.
To register go to http://www.facebook.com/PatternBodyWash and click "Like" button. The deadline for "Liking" Pattern is May 31, 2001, and is limited to residents of the continental U.S.
One winner will be selected on June 1, 2011. The promotional flier can be view at http://www.facebook.com/photo.php?fbid=218689231474791&set=pu.182121255131589&type=1
"Our body washes are natural and highly effective. They are moisturizing, gentle on the skin, and they smell great with no synthetic fragrances," states Jim Fogg, Managing Member of Pattern LLC.
"We created these products for people that think about what they put on their skin. It's important to recognize that your skin will absorb chemicals from the beauty products and cleansers that you use. Chemicals can enter the body through the skin, so we have made products that only use gentle and natural ingredients," said Fogg.
Pattern products include the following washes: Black Pepper, Citrus, Cucumber, Eucalyptus, Nutmeg, and Sage, along with Sage body lotion. The washes are formulated for multi-use, body, face and hair. All formulations are highly effective, yet use no artificial additives and no synthetic colors or dyes.
Pattern uses no synthetic fragrance. All fragrances are created from the combination of essential oils and plant extracts. These naturally derived blends make fresh and clean fragrances without over-powering the user.
Many commonly used, yet harsh chemicals are not used in Pattern products. This includes: no parabens, no phthalates, no animal ingredients, no sodium laurel sulfate (SLS), and no sodium laureth sulfate (SLES).
"Our name and tagline sums up our philosophy… Pattern. Think. Wash. Repeat," Fogg adds.
Pattern products can be found at specialty retailers across the U.S., and at http://www.patternbodywash.com
###