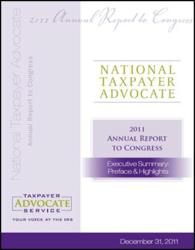 Washington, D.C. (PRWEB) January 11, 2012
National Taxpayer Advocate Nina E. Olson today released her annual report to Congress, identifying the combination of the IRS's expanding workload and declining resources as the most serious problem facing taxpayers. The result, the report says, is inadequate taxpayer service, erosion of taxpayer rights, and reduced tax compliance. The Advocate expressed her continuing concern that the IRS's expanding use of automated processes to adjust tax liabilities is causing harm to taxpayers and recommended that Congress enact a comprehensive Taxpayer Bill of Rights.
THE IRS IS NOT ADEQUATELY FUNDED TO SERVE TAXPAYERS AND COLLECT TAXES
"The overriding challenge facing the IRS is that its workload has grown significantly in recent years, while its funding is being cut," Olson said in releasing the report. "This is causing the IRS to resort to shortcuts that undermine fundamental taxpayer rights and harm taxpayers – and at the same time reduces the IRS's ability to deliver on its core mission of raising revenue."

Workload Overload. The sharp increase in the IRS's workload is due to several factors, including the increasing complexity of the tax code and the code's frequent changes, the need to provide service to an increasingly diverse taxpayer population, the IRS's increasing responsibility for administering economic and social policies, a surge in refund fraud and tax-related identity theft, and the implementation of new third-party information reporting requirements.
"Shortcuts" Shortcut Taxpayer Rights: "Non-Audits," IRS Math Errors, Lack of Notice, and Delays. To keep up with its rising workload, the IRS is increasingly relying on automated data-matching procedures to identify potentially inaccurate claims and adjust tax liabilities. However, automated processes are inherently imperfect, so the taxpayer's return position often turns out to be correct. Throughout the report, Olson describes IRS practices that "harm taxpayers by acting on assumptions of noncompliance arrived at by automated processes that do not solicit, encourage, or allow taxpayer response."
The IRS Determines Some Taxpayers Have Committed Fraud Without Notifying Them and Giving Them an Opportunity to Respond. The report expresses concern that an "auto-void" procedure violates fundamental notions of due process, as individuals suspected of fraud – a serious charge – normally are given notice and an opportunity to respond before the government takes adverse action.
Taxpayer Service Concerns: Delays and Non-Responses to Taxpayer Inquiries. Two key indicators of taxpayer service are the IRS's ability to answer taxpayer telephone calls and the IRS's ability to respond to taxpayer correspondence. From FY 2004 to FY 2011, the percentage of calls that the IRS answered from taxpayers seeking to speak with a telephone assistor dropped from 87 percent to 70 percent.
Increased Diversity of the Taxpayer Population Presents Challenges. The taxpayer population has become more diverse over time due to demographic developments as well as expansions in the scope of the tax law.
National Taxpayer Advocate Recommendation. In light of the IRS's unique role as the "accounts receivable department" of the federal government, the National Taxpayer Advocate recommends that Congress develop new budget procedures designed to fund the IRS at a level that will enable it to meet taxpayer needs and maximize tax compliance, with due regard for protecting taxpayer rights and minimizing taxpayer burden.
TAXPAYER BILL OF RIGHTS
The report urges Congress to codify a Taxpayer Bill of Rights that would clearly list the major rights and responsibilities of taxpayers. "The U.S. tax system is based on a social contract between the government and its taxpayers," Olson wrote. "Taxpayers agree to report and pay the taxes they owe and the government agrees to provide the service and oversight necessary to ensure that taxpayers can and will do so."
Most Taxpayers Don't Know Their Rights. The report describes a recent taxpayer survey in which 55 percent of respondents said they did not believe they had rights before the IRS and 61 percent did not know what their rights are.
OTHER KEY ISSUES ADDRESSED
This year's report identifies 22 problems, provides updates on four previously identified issues, makes dozens of recommendations for administrative change, proposes 13 recommendations for legislative change, and analyzes the 10 tax issues most frequently litigated in the federal courts.
About the Taxpayer Advocate Service
The Taxpayer Advocate Service is an independent organization within the IRS. TAS employees help taxpayers who are experiencing economic difficulties, such as not being able to provide necessities like housing, transportation, or food; taxpayers who are seeking help in resolving problems with the IRS; and taxpayers who believe an IRS system or procedure is not working as it should. If you believe you are eligible for TAS assistance, you can reach TAS by calling 1-877–777–4778 (toll-free). For more information, go to http://www.TaxpayerAdvocate.irs.gov or http://www.irs.gov/advocate.
Related Items:

###