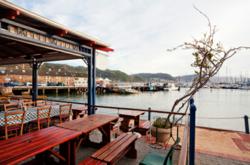 The business is very profitable, yet the hours are reasonable. The buyer will actually own the real estate, which has a new kitchen and has just been renovated. On top of that, the seller is willing to work with or without the buyer in place
Raleigh NC (PRWEB) December 13, 2011
This featured restaurant for sale offered by Sunbelt Business Brokers of Raleigh serves a popular boating community in coastal North Carolina. The business is highly profitable and the property is newly remodeled. When it was time for the owner to sell, he decided to use an experienced restaurant broker who knows how to sell a restaurant.
Trae McCarthy, restaurant broker for Sunbelt, was asked why this restaurant was the Featured Business For Sale in December. "For someone experienced in running a restaurant and who likes coastal living, this is an unbelievable opportunity. The business is very profitable, yet the hours are reasonable. The buyer will actually own the real estate, which has a new kitchen and has just been renovated. On top of that, the seller is willing to work with or without the buyer in place to help with the buyer transition." When Sunbelt of Raleigh features a business for sale, advertising is enhanced across most mediums. Sunbelt Restaurant Brokers uses fourteen different advertising websites to sell a restaurant. The company then highlights those advertisements to increase exposure and buyer traffic.
This is the second time in the last half of 2011 that a food & beverage business has been the featured business of the month for Sunbelt of Raleigh. Previously a sports bar had been featured. "There are likely to be many more in 2012 as Trae continues to expand his food & beverage practice," says Mark Richie, owner of Sunbelt of Raleigh. "Trae is starting to get a lot of referrals due to his industry knowledge and professionalism".
Sunbelt is the world's largest business brokerage firm, with approximately 250 licensed offices located throughout the world. Annually, more than 1,400 Sunbelt brokers coordinate an estimated 3,000 Main Street and Middle Market business transactions. That is why the company says, "Sunbelt is the place to go to buy or sell a business."
The Raleigh office of Sunbelt has been serving buyers and sellers for 25 years. There is an experienced staff of brokers including specialists in the Food & Beverage and the Publishing & Media Businesses.
# # #