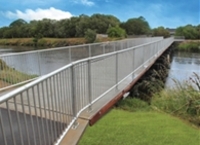 NOW WE WANT TO HELP THE PEOPLE IN NEED - 100%
(PRWEB) February 16, 2011
The Sentaur team has been affected by witnessing firsthand the devastation and anguish caused by the 2011 deluge.
Now we want to help the people in need - 100%
Sentaur Products is committed to donate 5% of the total value* of any flood affected replacement order for a limited time only, to the Premiers Flood relief appeal. This does not affect any special discounted rates that are in place.
We are convinced that this is a great opportunity to show the world how Australian people work together in a time of crisis. As proof of your contribution to this fundraising effort we are happy to supply a receipt confirming the donation has been made.
Contact Sentaur or visit our website for details and prompt replacement of your handrails, balustrade and barrier products affected, or simply to discuss your requirements for the New Year.
*Total Value excluding GST
Revolutionary Modular Handrails without inherent problems of traditional welded systems
> Significant onsite installation cost savings
> Fully modular, no welding or fabrication required, rapid installation
> Reduced safety hazards during delivery and installation
> Easily configured, no specialist tools required while being tamper proof
> Fully compliant with Australian Standards & BCA requirements
> Supplied in range of paint finishes to suit application
Our Website; sentaur.com.au
###