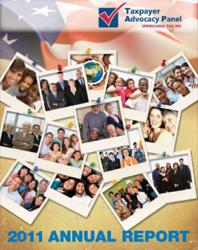 Washington, DC (PRWEB) November 16, 2012
The Taxpayer Advocacy Panel (TAP), a Federal Advisory Committee consisting of citizen volunteers from across the nation, has released its 2011 Annual Report describing its activities and recommendations to improve Internal Revenue Service (IRS) service and satisfaction. The report summarizes the Taxpayer Advocacy Panel's accomplishments, including 41 new recommendations and 25 projects the panel completed in 2011.
The 2011 Annual Report highlights the Taxpayer Advocacy Panel's key recommendations for IRS service improvements that include:

Making tax identity theft information more readily available to taxpayer victims;
Improving the process for matching a taxpayer's name with IRS records to increase the acceptance of e-filed tax returns;
Revising procedures to help individuals who failed to file required returns in prior years obtain the instructions, forms and information necessary to prepare and file those past-due returns;
Emphasizing e-filing and sending a reminder postcard to filers of Form 2290, Heavy Highway Vehicle Use Tax Return;
Improving the self-service distribution of forms and publications in IRS Taxpayer Assistance Centers;
Improving IRS customer service and communication in the Correspondence Examination Program; and
Proposing more than 100 recommendations designed to improve several IRS tax forms and publications.
The report highlights additional Taxpayer Advocacy Panel activities that include:
Redesign of the Taxpayer Advocacy Panel structure and work flow processes to reduce the operating costs of the program and focus on larger systemic issues;
More than 1,500 outreach activities with the taxpaying public and service as a listening post for the IRS;
Teaming with the IRS on a number of special events, including Tax Forums, Earned Income Tax Credit Awareness Days and IRS Live Webinars.
Taxpayer Advocacy Panel members are appointed by the Treasury Department from all 50 states, the District of Columbia and Puerto Rico. Members serve three-year terms, with approximately one-third replaced each year by new volunteers. The Taxpayer Advocacy Panel is chartered as an independent advisory committee under the Federal Advisory Committee Act to provide a taxpayer perspective on critical tax administration programs.
Current Taxpayer Advocacy Panel Chair Eboni Moss formally submitted the 2011 Taxpayer Advocacy Panel's Annual Report to the Secretary of the Treasury, the Commissioner of Internal Revenue and the National Taxpayer Advocate on October 12, 2012. Moss thanked the Treasury Department, the IRS and the Taxpayer Advocate Service for their support and partnership in working toward improved IRS customer service and taxpayer satisfaction.
More information about the 2011 Taxpayer Advocacy Panel Annual Report is available on the panel's website at http://www.improveirs.org. If you have any questions about the Taxpayer Advocacy Panel or would like to submit a suggestion to improve IRS customer service, please call the panel's toll-free number at 1-888-912-1227.