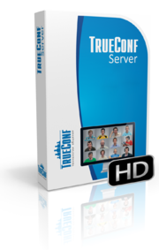 Based on the research and analysis of all requirements by Video Conferencing Software users, we compiled a list of the most demanded features. Our research defines the priorities for implementing amendments in new product versions
(PRWEB) June 08, 2011
TrueConf Server is a software video conference server designated for multiple user video conferencing in local networks and over The Internet. The video conferencing server provides up to 250 simultaneous conferences, each involving up to 100 participants. Client applications are run by Microsoft operating systems - Microsoft Windows 2000, XP, Vista, 7, Windows Mobile 6.x.
As early as last year, TrueConf revealed their new High Definition technology to clients during a series of workshops on Video Conferencing Solutions. Now, TrueConf (formerly VideoPort) is pleased to announce the official launch of their new HD-enabled server system, TrueConf Server 3.2. The Marketing Director of TrueConf, Lev Yakupov, explains that "...It was our intention to take our time in implementing the new product features, to guarantee that our clients receive the best quality product along with the lowest connection needs and the least expensive hardware requirements."
Besides this, the changes to version 3.2 have been carefully researched, with the goal of implementing a progressive vision of Video Conferencing Software products while also predicting the trends emerging in the market. Stanislav Soldatov, Technical Director, says: "For half a year the Sales Department of TrueConf has been collecting testimonials concerning the application of our solutions. Based on the research and analysis of all requirements by Video Conferencing Software users, we compiled a list of the most demanded features. Our research defines the priorities for implementing amendments in new product versions".
TrueConf Server Version 3.2 has many improvements over previous versions. One important feature implemented in Version 3.2 is Roaming. Roaming capability means that several video conferencing servers in different locations can be networked, linking many user databases across vast spaces. This enables video conferencing between subscribers to different servers – making connecting even easier for our clients.
In addition to browsing the TrueConf desktop of a conversation participant, the new version of the server client application, TrueConf Client 6.2, provides the user with a remote control option. If needed, this enables the coordination and support of individual user activities anywhere on the network. This is especially useful for those users with a large quantity of contacts - they will be able to share and sort contacts into groups in their application's address book.
The new version of the TrueConf video conferencing server also provides higher quality slide presentation during conferencing sessions. It has improved client application support for two-monitor configurations, better features for video conference recording, and many essential software updates. Additionally, the client application interface features Dutch localization and is now available in six languages, including Russian, English, German, French, and Ukrainian. The company's representatives confirm that the list is not final. In the near future, there will be support for further European languages, and Asian languages as well.
Mikhail Gotalskiy, the Director of TrueConf, has stated that "...By creating new product versions, we promote a new standard [of Video Conferencing Software] and push for advancements and higher video calling quality. The next step in the development of the Video Conferencing Software server will be creating a version which supports 3d video calls and the use of the Android mobile platform. We seek to create cutting edge video conferencing solutions for businesses that will provide each enterprise with the opportunity to arrange and efficiently carry out its activity with the use of innovative technologies".
About TrueConf, http://www.trueconf.com
TrueConf is Eastern Europe's leading developer and manufacturer in the field of video conference communications. Established in 2003 in Moscow, Russia, the company provides innovative individual and corporate solutions in the area of video- and audio data transmission.
TrueConf's experience in implementing video conference call solutions includes more than 700 successful networking projects carried out within different branches and activities in Russia and abroad. Video conferencing systems by TrueConf are used by governmental departments, educational and financial institutions, small and medium enterprises, and corporate entities. The company's clients include the Ministry of Health and Social Development, Russian Agricultural Bank, GLOBEX Bank, National Bank TRUST, Moscow State University, MAI, USUE, MUH, AFK Sistema, Nestle, Sky Link, VTB Insurance, and many more.
Our Product line includes:

TrueConf Server – a dedicated server to organize and manage Video Conferencing Software systems.
TrueConf Gateway – a gateway computer service for connecting user Video Conferencing Software terminals, via third party developers, to the TrueConf Server.
TrueConf Online – a cloud Video Conferencing Software service which operates over The Internet.
###