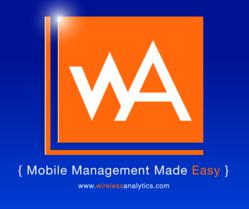 Wireless Analytics will work with TEMIA to promote best practices in the wireless expense management industry.
Danvers, MA (PRWEB) November 15, 2011
Wireless Analytics, LLC, a telecom firm that manages wireless and mobile expenses for mid-to large sized companies such as Thermo Fisher Scientific, Hologic and iRobot, has become an official member of the Telecom Expense Management Industry Association (known as TEMIA), the nation's largest industry association for the telecom expense management space.
TEMIA has more than 38 member businesses that collectively manage more than $36 billion of telecom and data spending for companies around the world. It is the only certifying body in the industry of telecom expense management and wireless mobility management.
"We appreciate TEMIA's positive work and analysis for our industry and we are very proud to officially join their ranks," said Wireless Analytics Founder and Managing Director Erik Eames. "Wireless Analytics already has strong working relationships with many of TEMIA's members and we look forward to building these collaborations for the sake of promoting best practices and education for the wireless expense management industry."
TEMIA's mission is to raise awareness and knowledge of the values and benefits of telecom expense management (TEM), and to improve the quality of TEM solutions through development and promotion of open industry standards as well as industry knowledge among providers, business partners, telecom service providers and enterprise clients.
"Each new TEMIA member makes us stronger and more relevant as we add firms with corporate headquarters around the globe including Canada, France, Netherlands, the United Kingdom and America," said Joe Basili, TEMIA's managing director. "Wireless Analytics LLC, one of the pioneers in our industry, is a welcome addition to our group."
Founded in 2003, Wireless Analytics serves clients throughout North America, primarily in the Northeast. The company was rated #1 in customer service in 2011 among 70 wireless mobility management firms by AOTMP, a leading industry research firm in fixed and mobile telecom.
About Wireless Analytics, LLC
Wireless Analytics provides outsourced mobility management services such as online visibility and reporting, wireless policy development, cost analysis, procurement, complete help desk services, inventory management, and carrier invoice management. Additionally, Wireless Analytics offers the proprietary CLEAN Platform™, a wireless telecom expense management tool that empowers businesses through wireless performance metrics. To learn more, please visit http://www.wirelessanalytics.com.
About TEMIA
The largest telecom expense management (TEM) service providers founded TEMIA, the Telecom Expense Management Industry Association, in 2006. TEMIA is a not-for-profit organziation guided by service and industry solution providers. TEMIA's initiatives include grassroots advocacy of WEM and TEM, open industry standards, and an ethics code. For more information about TEMIA, visit, http://www.temia.org.
Media Contact
To arrange interviews with Erik Eames, founder and managing director of Wireless Analytics, please contact Kerry Nota at 888.588.5550.
###