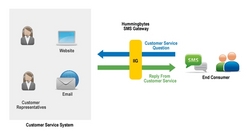 The ever growing demand for customer support and the need for optimizing agent's time makes SMS an obvious choice for addition in a contact center.
Holliston, MA (PRWEB) January 31, 2011
Hummingbytes Inc., a Massachusetts based company has developed a web based customer support product that works on 2-Way SMS (TEXT) messaging. This system uses SMS (TEXT) as a customer support channel and has all the features of a contact center CRM.
Being web based the product enables supporting customers from anywhere in the world. Multiple agents can log into this SaaS product and respond to incoming SMS (TEXT) messages along with taking calls, replying to emails etc. With active routing and re-assignment of cases to the most efficient agents, a very effective customer service channel can be opened up to help the customers with quick response times.
Industry solutions (bi-directional):

Support center for banks and credit card companies
o Getting account balances on bank account.
o Transferring money from one account to another.
o Bank address, timings, CD rates etc.

Patient-Doctor support systems
o Fixing / canceling doctor appointments.
o Remote consultation on symptoms
o Drug addiction recovery (Anonymous interactions)

Restaurants-Client communication
o Suggestion box for restaurants (with one-on-one replies capability)
o Collecting complaints and feedback etc.
o Mobile coupons for customer retention & loyalty
Salient features:
1. Case allocation algorithm: In-built case allocation algorithms distribute messages to agents based on parameters like agent's speed of response to incoming messages, number of cases in agent's inbox, agent with least work load and other metrics.
2. Email forwarding: To ensure highest level of support, emails are forwarded to agents on receipt of a new incoming message. This ensures customer support questions are not left unattended for long periods of time.
3. Frequently Used Responses: A list of frequently used responses is available for agents to send quick and typical responses. For e.g.: Location addresses, hours of operation, toll free numbers etc.
4. Keyword based routing: This feature facilitates keyword based routing of messages to different teams. Different teams can work on different issues based on the incoming message keywords.
5. Case reassignment: To achieve best response rates, cases are re-assigned after certain (configurable) time. This ensures no customer waiting indefinitely for a response and some agent is taking care of the customer. The system allows two case reassignment settings. On agent logout and on max case inactivity threshold. In both situations the entire case is assigned to another agent based on the case allocation algorithm.
6. Reports : Case Activity History, Agent Activity History, Average Messages To Resolution, Agent Available Time, Total Messages Not Replied, Average Response Time, Max Response Wait Time etc. Reports can be viewed Weekly, Monthly, Quaterly, Yearly for the entire team or individual agents.
Product Advantages:
1. UI Integration: Being web-based with single sign on capability, this product can be easily integrated into any CRM solution by adding appropriate place holders on the host CRM interface.
2. Traceability and mining capability: All incoming and outgoing communication is saved for data mining. Using the customer's phone number and CRM agent's Id, one can tie the communication to enterprise data for analysis and reporting. This data can be used to track the CRM agent's performance and it can also be used to pin point potential problems in the product and services offered. The data serves as the knowledge base for a lot of metrics.
3. Global reach: Customers and CRM agents can be in any corner of the world and still get in touch with each other. This means businesses can offer 24 hour support by setting up Agents in offshore sites to answer support questions.
4. API integration: The product offers rich web APIs for integrating with other enterprise CRM solutions. This offers the benefit of adding SMS (TEXT) as a new support channel into an existing CRM products.
5. Optimum Agent usage: Agents can be on the phone, reply to emails and at the same time reply to SMS (TEXT) messages thus optimizing their work time. With SMS (TEXT) a single agent can handle as many as 4 conversations at the same time without losing context of each conversation.
About Hummingbytes Inc.
Hummingbytes is a software product and services company specializing in Mobile and Voice solutions. The company develops and maintains communication clouds where Social Media, Smart Phones, Voice, SMS (TEXT), Email, IM & Fax based applications can be deployed. It also makes web based communication products by leveraging their cloud technology.
# # #