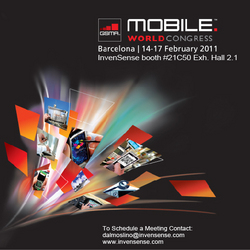 Sunnyvale, CA (PRWEB) January 26, 2011
InvenSense, Inc., the leading solution provider of MotionProcessor™ technology for consumer electronics, is showcasing the MPU-6000™, the world's first and only 6-axis integrated MotionProcessor (gyroscope + accelerometer), with built-in Digital MotionProcessing™ (DMP) hardware accelerator to perform 10-axis sensor fusion. MEMS MotionProcessing technology is becoming the enabler of differentiating features in smart phones and tablets for such applications as mobile gaming, image stabilization, and gesture UI and will be showcased at the InvenSense booth in Hall 2.1, #21C50 at the 2011 Mobile World Congress Show in Barcelona, Spain from February 14th through the 17th.
The MPU-6000™ is a breakthrough in MEMS motion sensing technology with an onboard Digital Motion Processor (DMP) and MPL 3.3 software capable of processing complex 9-axis and 10-axis sensor fusion algorithms. InvenSense MotionProcessing technology facilitates the development of applications such as precise sensing of hand jitter to improve image quality and video stability, GPS dead reckoning for vehicles, indoor pedestrian navigation, motion-based user interfaces, augmented reality, motion and gesture-based TV remotes, and more immersive gaming experiences. InvenSense will demonstrate a full suite of the latest developments in Motion Processing solutions across a variety of mobile devices:

10-axis MotionProcessing: Demonstration of MPU-6000, the world's only 6-axis single-die MotionProcessor (3-axis gyroscope + 3-axis accelerometer), and built-in 10-axis sensor fusion. The InvenSense 10-axis MotionProcessing solution automatically calibrates all sensors, including the compass for accurate heading and pressure sensors for altitude-change detection.
9-axis MotionProcessing Multimedia Experience on Android Tablets: Experience 360-degree motion-based panoramic photo viewing where fine motion control puts you "in the scene." Additionally, realistic gaming experiences through the benefits of the 9-axis MotionProcessing are also demonstrated.
AirLock™ and MotionCommand™ Technology: Use your air signature as an alternative to text passcodes. With simple, discrete motions you can now unlock your phone or access secure applications with a single hand using AirLock. MotionCommand detects pre-programmed motion gestures for application control and short-cuts helping you perform tasks faster.
For press and partner meetings with InvenSense at the show, contact dalmoslino at invensense dot com. For more information and product images, please visit InvenSense online at http://www.invensense.com. Produced by GSMA, the Mobile World Congress Show is the world's largest exhibition for the mobile industry and congress featuring prominent mobile operators, vendors, and content owners from across the world.
About InvenSense
InvenSense is the leading solution provider of MotionProcessors for the consumer electronics market, with proven technology and cumulative shipments of over 100 million units to leading customers worldwide. The company's patented and patent pending MotionProcessing technology and Nasiri-Fabrication platform address the emerging needs of many mass-market consumer applications such as gaming, image stabilization, remote controls, tablets and smartphones that require improved performance, enhanced features, and new and more intuitive motion and gesture-based user-interface solutions. InvenSense is a privately held company with headquarters located in Sunnyvale, California. More information can be found at http://www.invensense.com.
© 2011 InvenSense, Inc. All rights reserved. InvenSense, MotionProcessing, MotionProcessor, MPU-6000, Nasiri-Fabrication, Digital Motion Processor, Motion Processing Library, AirLock, BlurFree, and the InvenSense logo are trademarks of InvenSense, Inc. Other company and product names may be trademarks of the respective companies with which they are associated.
###