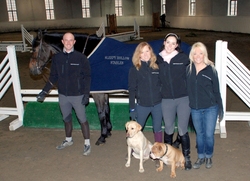 Scarborough, New York (Vocus) January 2, 2011
Sleepy Hollow Country Club, one of the nation's most prestigious country clubs, is repositioning and enhancing its premier equestrian program with a major renovation and the appointment of a Grand Prix training staff.
The Sleepy Hollow Stables, which is currently in an on-going renovation, comprises a two-story, 45-stall stable with wood-paneled reception room with wood burning fireplace for rider relaxation and social events; large indoor ring with glassed-in viewing room; smaller indoor riding ring for beginners; spacious, hedge-lined outdoor riding ring; new Grand Prix ring and nine grass paddocks for year-round use. The rings are equipped with dust-free, fiber blend and sand footing from Footing First.
The Stables are led by Head Trainer and Equestrian Manager Geoff Case, a Grand Prix rider who focuses on training top riders, using the classical teachings of George H. Morris and Bert De Nemethy and European techniques. Mr. Case, a resident of Briarcliff Manor, also competed this summer in several area horse shows, capturing top prizes and bringing renewed fame for the Sleepy Hollow Country Club's equestrian program. A graduate of Johns Hopkins University, Mr. Case has worked with top trainers Robert Murphy, Debbie Stephens, and Karen Healey. He has competed throughout Europe for Team Audi and Team Lincom.
Mr. Case has assembled a top-flight experienced staff including grand prix riders Wendy Subotich, who also teaches lessons to the more experienced riders and helps prepare them and their horses for competition; Ashley Woodhouse, assistant trainer, who focuses on developing young riders and Megan Mulrooney, who manages the stables and oversees marketing.
Mr. Case said the Stables have seen a steady increase in the number of riders and lessons, making the Sleepy Hollow Stables a popular destination for riders of all ages in the region. He said the Stables are particularly attractive to riders from New York City because it is more conveniently located to the city than riding facilities in northern Westchester and Connecticut.
The Stables' riding program offers instruction for all levels, ranging from the weekend to experienced riders as well as children's programs featuring a horsemanship program and a summer pony camp. Members have access to all amenities including trails in the scenic Rockefeller State Park Preserve adjacent to the Club.
Membership in the Stables includes unlimited use of the equestrian facilities, access to the Rockefeller State Park Preserve trails and participation in programs and social events including: In-house horse shows for schooling; annual country fair with riding exhibition, gymkhana, pony rides, hay rides and more!; "Family Night' informational socials covering a variety of subjects; Christmas holiday party and holiday horse show; bridle trail riding; Summer Pony Camp; and Horse project program.
Private/group lessons with the training staff are also available. For horse owners, the Sleepy Hollow Stables also offers boarding services in its 45-stall stable including full care grooming as well as monthly training packages that include lessons, training rides and coaching for horse shows.
For more information about the Sleepy Hollow Stables, call (914) 941-6620 or visit http://www.sleepyhollowcc.org
Located in Scarborough, NY, Sleepy Hollow Country Club has been voted one of the top 100 most prestigious country clubs in the United States. In addition to the Riding Stables, the Club offers two C.B. Macdonald designed golf courses, an outstanding 18-hole course as well as a nine-hole course. There are 10 clay tennis courts and a swimming pool serviced by a cafe and locker rooms. The main Clubhouse boasts a ballroom, library, grill room, formal dining room, 18 guest rooms, golf shop and locker rooms. For winter sports, there is a three-court squash building, four paddle tennis courts, a skeet/trap/log cabin lodge facility and a golf teaching/practice center.
Sleepy Hollow Country Club, which is celebrating its centennial in 2011, is rich in history. The picturesque 338 acres of hills and woodlands that make up the property were once known as Woodlea, the country estate of Mr. Butler Wright. The former Golf House, which was situated adjacent to the north end of the pool complex, was the family residence. Later this estate was purchased by Colonel Eliot F. Shepard, husband of Cornelius Vanderbilt's granddaughter, Margaret Vanderbilt, and in 1893 the palatial home – now the main Clubhouse – was constructed along with the magnificent stables. The plans were by Stanford White of McKim, Meade & White, and constituted one of the last works of the famous architect. The entire estate was purchased in 1910 by Mr. William Rockefeller and Mr. Frank A. Vanderlip, who in May 1911 sold and turned it over to the organizers of The Sleepy Hollow Country Club.
###