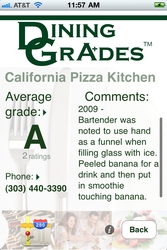 "DiningGrades.com is the first and only rating system empowering the consumer to objectively grade a restaurant on cleanliness and hygiene." Dr. Harlan Stueven MD
Fairplay, CO (PRWEB) January 11, 2011
Unlike most restaurant-finding apps, DiningGrades offers directed information on the sanitation and health of a restaurant, not just its decor, cuisine or friendly staff.
The app allows searching for a restaurant, finding a preferred clean graded restaurant, reviewing any suspected food poisoning events, accessing a map, obtaining directions and calling the restaurant directly from the profile screen. Consumers can even make on line reservations at thousands of restaurants.
When finished dining, rating is easy, right from the table, by tapping "Finished Dining, I would like to Rate", then typing three letters of the restaurant's name. A prompt to answer objective yes-or-no questions regarding the sanitation of the restaurant is displayed. Finally there is an opportunity to leave comments about areas needing improvement or areas of excellence for future users.
If the restaurant is not in the database of nearly ½ million restaurants, it can be added by typing the restaurant's name, then tapping "Yes" for "Are you at the Restaurant now?" It even adds address and phone automatically.
Dining Grades is offering the community service app through Apple iTunes. Compatible with iPhone, iPod Touch and iPad it can be downloaded for free. IPhone download
DiningGrades.com was created by an Emergency Department Doctor, Dr. Harlan Stueven, with nearly three decades experience.
Until now, consumers relied on Public Health inspections, done infrequently and sometimes only once a year, to ensure hygienic compliance. Tragically, the Center for Science in the Public Interest reports 66 percent of restaurants had high-risk food safety violations. Violations cause food poisoning.
By rating a restaurant, consumers learn what critical items to watch for. The FDA Food Code has over 50 inspection items. Many can be observed outside of the kitchen.
In the past, it was tempting to walk away from a dirty restaurant, taking no action, but now, that experience can be rated using the DiningGrades.com copyrighted system. The system's questions are simple, objective and are based on public hygiene and medical standards of cleanliness. Deficiencies are assigned a demerit. The demerits generate a grade. Grades from every rating are continually merged.
About 48 million people (1 in 6 Americans) get sick, 128,000 are hospitalized, and 3,000 die each year from food borne diseases, according new estimates from the Centers for Disease Control and Prevention. If the consumer gets sick from dining out, they can now report the event anonymously on DiningGrades.com. The report is then emailed to the respective State Health Department to investigate and to participating restaurant promoters as an early warning of a potential epidemic.
To help the restaurant improve its sanitation and practices, DiningGrades.com offers a free educational program, to promoter restaurant employees, designed to enhance food handler hygiene.
The Center for Science in the Public Interest, major metro media and lawmakers are calling for a universal restaurant cleanliness grading system. Major metro areas are assigning letter grades at the time of annual inspections. These systems are critical steps, but represent a small segment in time.
DiningGrades.com has created a free, dynamic, community service restaurant grading system that empowers the consumer to watch for cleanliness and hygiene. With release of the free iPhone app, DiningGrades.com has put the power in the hands of the consumer, right at the dining table, and made rating a restaurant easy and convenient.
###