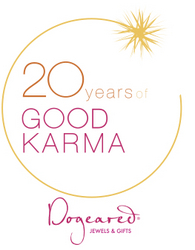 People come to us for personal, positive gifts because they know what we do is from the heart. We believe in the power of good energy and meaningful actions. We will always be made in the USA, earth-friendly, and involved in giving back.
(PRWEB) January 5, 2011
Dogeared, a trendsetting fashion brand creating handcrafted jewels and gifts in Los Angeles, is celebrating its 20th birthday by launching its new line at select winter trade shows. Again, Dogeared is presenting three distinct catalogs showcasing three different collections: Dogeared NOW, Dogeared FOREVER, and Dogeared Bridal. Retailers, buyers, and editors can view the line and pick up the wholesale catalogs at the New York ENK Accessories Circuit Show, LA Market, the NY International Gift Fair, and Project Las Vegas. (See dates below)
"We are excited that the launch of our Spring 2011 line coincides with the celebration of Dogeared's 20th birthday," states Marcia Maizel-Clarke, Dogeared's founder. "My design team was invigorated this season by color, texture, and new materials. We worked with new fine and graphic artists and photographers and their creative visions gave us a fresh point of view that was really exciting. While staying true to Dogeared's core aesthetic, we embraced an extensive palette that provided endless inspiration."
Catalogs and Collections:
Dogeared NOW is the fashion line of necklaces, bracelets, and earrings. This season it is all about color, texture, gems, and impact. New Jewel Box styles, and new designs in the Whispers, Modern Word, and Mantra Collections feature multiple designs, interpretations, and variations in a wide range of price points. The jewelry is true to the spirit of spring… easy to wear, not too complicated, just handmade and beautiful.

Jewel Box: This season's limited edition jewelry combines raw materials with organic elements to create earthy, textural pieces. The look is eclectic and unpolished, while balancing the right amount of refinement with some rough edges.
Cuff bracelets: hand sewn from repurposed leather, come in eight color combinations ranging from bronze and fuchsia to platinum and metallic green.
Memory Bracelets: the perfect arm candy with outrageously bright colors mixed with neutrals and metallics. Designed to be worn by the armful, or mixed and matched with other favorites for a look that will go through spring and summer in style.
Life's a Beach: new collection of ocean-inspired charms with organic and flowing shapes, born on the beaches of California – just like Dogeared.
Mantra: New last season, Mantra is the modern interpretation of the word jewelry that Dogeared made famous. Quickly becoming a best seller, new words and shapes that empower, inspire, and connect are introduced this season.
Dogeared FOREVER features classic Dogeared jewelry, the sterling silver and gold-dipped charms and messages that customers return to again and again. Make A Wish, Pearls of…, Love, and Karma are among the perennial favorites that continue to evolve. These Dogeared basics are timeless, relaxed and easy to wear, such as:

Charms: Words and charms have been the soul of Dogeared for 20 years. This season offers 224 custom-designed, hand cast charms, each with its own story and personality. From fun and playful, to nature-inspired, to subtle and sophisticated, new charms include a whale, coral branch, faceted heart, and an arrowhead.
Concepts: A wonderful concept printed on a beautiful card + a unique piece of jewelry = the perfect gift. Known for providing the ideal gift for any occasion, Dogeared continues to grow their collection of concept cards. New additions include "Congratulations," "Family," "Look Within," "Luminous," and "Make Waves."
Karma: Dogeared's most popular line continues to expand with the addition of new Wavy, Button and Organic Karma necklaces, Karma rings, and new necklace and bracelet styles on leather. The Karma circle, and the concept that, "what goes around, comes around," continue to inspire beautiful new designs… For jewels that are simple, effortless, sophisticated, and totally at home with the rest of the best selling Karma collection.
Wishes: The Wishes collection is another Dogeared classic that grows each season. Now, both the 100 Good Wishes and the Three Wishes collections have added turquoise, coral, and gems.
Dogeared Bridal: Dogeared's new Bridal catalog continues its commitment to brides of all styles, tastes, and personalities. Diamonds, pearls, charms, gift-friendly price points, jewels and words celebrate friends, family, and love. The look is always classic, clean, fresh, and beautiful. Look for:

Gifts: for Brides, Mothers of the Bride, Maids of Honor, Bridesmaids, and Flower Girls. Gifts with personality and flair for bachelorette parties, bridal showers, and all the celebrations leading up to the big day.
Diamonds: necklaces and earrings retailing for under $100.
Make A Wish Bridal: a variety of charms and concepts, from "Engaged" to "New Beginnings," from "Bachelorette to "Bridezilla," and from "Sister" to "Best Friend."
Customizing: brides can coordinate the charms and concepts with 21 silk color options to create their perfect wedding.
"On our 20 year journey, we have evolved into a brand, a lifestyle, and a culture that is truly unique," continues Maizel-Clarke. "People come to us for personal, positive gifts because they know what we do is from the heart. We believe in the power of good energy and meaningful actions. We will always be made in the USA, earth-friendly, and involved in giving back to the community. It's who we are."
As collections and catalogs expand, Dogeared continues to decrease its environmental footprint. Catalogs, cards, and packaging are printed on mixed sources, and sterling charms are 100% recycled silver. The company works with suppliers and casters who share their environmental commitment, and all the jewelry and gifts are handmade in Dogeared's Southern California studios.
Retail prices range from approximately $25 to $175. The three wholesale catalogs are viewable online at http://www.dogearedwholesale.com.
Dogeared Winter Trade Show Schedule
January
New York ENK Accessorie Circuit Show
The Show Piers, New York City
January 9-11, 2011
Pier 94 3135
LA Market
Kristi Harris Sales
Cooper Design Building
860 South Los Angeles
Suite #640
January 17-20, 2011
New York International Gift Fair
Jacob Javits Convention Center
11th Avenue @ 37th Street
January 30-February 3, 2011
February
Project Las Vegas
The Mandalay Bay Convention Center
February 14 - 16, 2011
Dogeared Jewels & Gifts
Designer Marcia Maizel-Clarke founded Dogeared Jewels & Gifts 20 years ago in Southern California. Originating word jewelry, she began creating beautiful pieces with the purpose of putting positive, peaceful, and loving energy into the world. This energy has always included being kind to the planet, handcrafting all the jewels and gifts in California, and working with non-profit organizations sharing a vision of a better world. Dogeared's unique, custom-cast jewels are regularly featured in fashion, lifestyle, and celebrity publications, in films and on television shows. Trendsetting retailers around the world, including Nordstrom, Neiman Marcus Cusp, Bloomingdale's, Fred Segal, and ABC Home, all carry Dogeared. Please visit http://www.dogeared.com for Dogeared's online flagship store. For wholesale information, visit http://www.dogearedwholesale.com .
Press Contact:
Beth Hinckley
Dogeared_pr(at)att(dot)net
Jpegs and samples are available
###