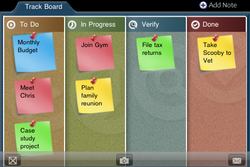 TenPearls' mobile app, uTrack, stood out as clear leaders in terms of its usability and intelligent integration with smart devices.
Herndon, VA (PRWEB) January 6, 2011
Nokia Pakistan awarded TenPearls 1st Prize for its mobile application uTrack in a competition held for the first time in Pakistan with an aim to identify best Local Apps. Nokia awarded the first prize of one million rupees to TenPearls for winning this competition organized for apps that were most relevant to the Pakistan market.
uTrack allows users to get organized with their daily personal and work-related tasks with to-do / post-it virtual walls, allowing users to define and manage tasks through a user-friendly interface. uTrack Pro comes with a number of productivity features providing task organization, scheduling and assignment.
"We evaluated many creative applications submitted for 'Calling All Innovators Pakistan 2010' developer competition. Most of the entries received were quite useful and impressive. Selecting a winner was a tough decision for our panel of judges. However, TenPearls' mobile app, uTrack, stood out as clear leaders in terms of its usability and intelligent integration with smart devices. As facilitators for the developers' community, Nokia has set higher expectation for TenPearls and we see TenPearls as our long-term partner in various initiatives," commented Rabia Nizami, Solutions Manager, Nokia, Near East.
"Nokia's global commitment to foster developers' community is praise-worthy and extremely helpful in furthering an environment of innovation and entrepreneurship worldwide," commented Imran Aftab, President of TenPearls. "We are looking forward to building more applications on Nokia's smart devices and leveraging our relationship for greater business successes," added Imran.
uTrack Application is available across multiple platforms, and is available for download from Nokia's OVI store, Apple's iTunes, and Android Market. The application is soon to be released for Windows Mobile and the Blackberry Playbook. More information on uTrack is available on TenPearls' uTrack page.
About Nokia
At Nokia, we are committed to connecting people. We combine advanced technology with personalized services that enable people to stay close to what matters to them. Every day, more than 1.2 billion people connect to one another with a Nokia device - from mobile phones to advanced smartphones and high-performance mobile computers. Today, Nokia is integrating its devices with innovative services through Ovi, including music, maps, apps, email and more. Nokia's NAVTEQ is a leader in comprehensive digital mapping and navigation services, while Nokia Siemens Networks provides equipment, services and solutions for communications networks globally.
About TenPearls
TenPearls is a privately-held, global application development and technology company helping organizations solve their most pressing challenges. TenPearls' diverse clientele includes Fortune 2000 corporations and Government agencies to high-growth small and medium-sized businesses to enterprising start-ups. We have successfully delivered mobile platforms, mobile apps, mobile sites, web-based software, and business analytics solutions.
Contact Information:
Nokia Pakistan Mobile (Pvt) Ltd
Adeel Hashmi: +92 -300-211-5227
TENPEARLS
Sid Hansen: +1-703-234-5330
Zeeshan Aftab: +92-21-3432-8447
http://www.tenpearls.com
###