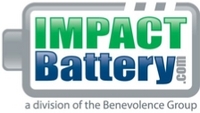 Impact Battery was founded on the concept of giving back to the community it serves. Our simple mission statement says it all: provide high quality batteries and chargers and have a positive impact on community - Darren Somerville
(PRWEB) January 6, 2011
Darren Somerville, founder of Impact Battery, reports a successful first year in 2010 for his company and the IMPACT Community Program. The program supports community charity organizations and schools. A portion of every sale is contributed to a charity or educational facility the customer chooses from a list of participating organizations.
"Impact Battery was founded on the concept of giving back to the community it serves. Our simple mission statement says it all: provide high quality batteries and chargers and have a positive impact on community. Everyone can participate simply by taking action at the point of purchase and 2010 has shown us that it works and works well," said Somerville.
Customers select which charity will receive the donation when they make a purchase. The current list of benefactor organizations includes:

Doctors Without Borders
Red Cross
Search and Rescue
Pregnancy Care Centers
Boys and Girls Clubs of America
National Alopecia Areata Foundation (NAAF)
"Have a favorite charity with a 501c3 (charitable or educational organization) designation not on our list? Let us know and Impact Battery will consider enrolling your charity or school in the IMPACT Community Program. We plan to grow the program in 2011 to include even more worthy causes," according to Somerville.
"We encourage charitable organizations to receive larger contributions by linking to the Impact Battery website via the charities web page or by selling our products through their fund raising activities. The bottom line is everyone uses batteries. Why not purchase them through Impact Battery and support your favorite organization with a generous portion of the proceeds at the same time?"
Impact Battery offers a large selection of deep cycle batteries made by LifeLine Batteries, Universal Power Group (UPG) and Amstron Power Solutions for recreational vehicles:
Marine
Golf cart
RV batteries
Uninterruptable power supply (UPS) units
Wheelchair scooter batteries
Additionally, they sell chargers and solar chargers manufactured by Pro Charging Systems (Dual Pro), Noco Genius, Samlex, Japlar Schauer, Power Up and Global Solar Energy.
To learn more about Impact Battery or arrange an interview with Darren contact:
Impact Battery, A Division of the Benevolence Group
2088 Robinson Road
Grants Pass, OR 97527-9282
Darren Somerville
866-668-3163
http://www.impactbattery.com/
###