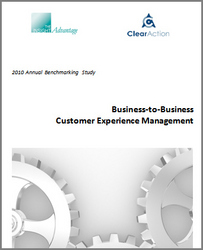 CEM shapes corporate strategy for one in five B2B firms.
Sunnyvale, California (PRWEB) January 6, 2011
The world's first global benchmarking study of business-to-business customer experience management (B2B CEM) provides insights on the growing role of customer experience in corporations. Four out of five B2B firms assign overall responsibility for customer experience initiatives to a vice president or director-level executive, and half of the organizations have increased investment in customer experience management over the past five years. One in five companies treats customer experience inputs as a determinant of corporate strategy.
Current CEM practices are largely centered on revenue through customer retention and share of wallet. The greatest success factors reported by B2B firms are executive sponsorship and employee engagement, and most customer experience management programs are driven by Service, Marketing, or Sales organizations. Company-wide implementation appears to be on the rise, although many firms still focus their CEM efforts on a specific functional area such as customer service.
This study of business-to-business firms analyzed some elements unique to the B2B environment, such as the role of social media and multiple buying influencers in customer experience management. While many companies view word-of-mouth monitoring as irrelevant, other B2B firms are finding useful ways to capture this important component of customer input. Improvement can be made in tapping into the perceptions of the multiple influencers of buying decisions, and use of tools to stimulate ongoing progress, such as systems thinking, knowledge management, data integration and change management.
The primary obstacles for B2B firms are the same as those reported in other benchmarking studies: lack of cross organizational cooperation and lack of customer experience management strategy. Ten characteristics that differentiate CEM from customer satisfaction or customer relationship management were assessed. The best understood tenets of CEM reflect aspects of customer perception measurement. The lesser known tenets describe the customer's high degree of control in characterizing customer experience, and the need for organizations to maintain insatiable curiosity and uncanny adaptability for delivering superior customer experiences.
Recommendations for stronger customer experience strategy, cross-organizational cooperation, and business results are provided in the study. Participating companies are headquartered in North America, Europe, Asia, and the Middle East, and industries represented include equipment, financial services, insurance, legal, medical, manufacturing, publishing, telecommunications, technology, and transportation. This study was sponsored by ClearAction and The Insight Advantage.
The second annual B2B CEM study is scheduled for publication in mid-2011. Access the First Annual ClearAction Business-to-Business Customer Experience Management Benchmarking Study report at http://www.clearaction.biz/benchmarking.html.
About ClearAction
ClearAction is a customer experience consulting firm specializing in customer experience innovation, enterprise-wide employee engagement in customer experience management, and customer relationship skill-building. ClearAction emphasizes prevention of customer hassles for greater results in customer retention, lifetime value, and sustained profitability. Lynn Hunsaker, head of ClearAction is author of three ebooks: Innovating Superior Customer Experience, Metrics You Can Manage for Success, and Customer Experience Improvement Momentum.
About The Insight Advantage
The Insight Advantage is a full-service research firm, providing a wide range of services (web surveys, focus groups, telephone interviews) to help companies implement customer research for ongoing insight into their customers' evolving needs and expectations. Jennifer Berkley Jackson, head of The Insight Advantage, is an extension faculty member of University of California - Santa Cruz.
# # #