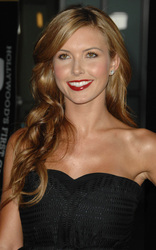 I am really looking forward to starring in a new web series for YOBI.tv
Detroit, MI (PRWEB) January 10, 2011
Audrina Patridge, long-time host of YOBI.tv (http://yobi.tv/yobiact/audrina-patridge), will star in the first of several YOBI.tv produced web series that will co-star the winners of the new YOBI Act contest, now open for auditions.
Still buzzing from the fame of MTV's "The Hills", ABC's "Dancing With The Stars", and the recently announced VH1's "Audrina" show to launch in April, Patridge will add yet another layer to her growing career.
"I am really looking forward to starring in a new web series for YOBI.tv" says Patridge, "This is such a great way to incorporate all of the tremendously talented people discovered through these contests, and I can't wait to work alongside them."
YOBI.tv will open several YOBI Act contests for additional web series throughout the year and the winners of the contests for singing, film-making, photography, and comedy will also be featured. The celebrity to star in the second web series will be announced later this month.
After giving away hundreds of thousands of dollars in cash and VIP prizes to the winners of its first four contest channels, YOBI.tv now moves up to this new level which offers high profile opportunities for aspiring entertainers to show their talent to the world.
YOBI.tv (http://yobi.tv) is a fast growing global talent contest network that offers fame and fortune to anyone, anywhere, anytime combining user-generated content and online talent competitions with social networking for a revolutionary new entertainment platform. Without big budgets, green lights, or P & A, you vote and anyone can hit it big.
###