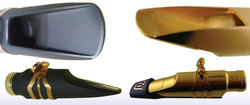 The DATTA might take over the world. Then there is BRAHMA!! Both are landmark mouthpieces. Once someone tries the DATTA or the BRAHMA, they will never be satisfied with anything less.
Bellingham, WA (PRWEB) January 8, 2011
Theo Wanne has taken the high baffle mouthpiece to a whole new level with the DATTA Performance Line. The design is based off Theo's now classic pro-line DURGA mouthpiece, but with an emphasis on a thick core sound. It has a huge, modern, projecting sound, and uses the most advanced mouthpiece manufacturing methods in the world.
Theo Wanne has combined a robust vintage Otto Link sound with an improved design to increase projection and flexibility with the BRAHMA Performance Line.
The DATTA and BRAHMA are available in hard rubber and metal models; all at a price now almost everyone can afford.
###