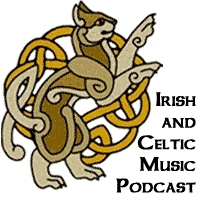 that shows how popular Celtic music has become these days
New Orleans, LA (PRWEB) January 9, 2011
Thousands of fans voted, and for the second year in a row, "The Irish & Celtic Music Podcast," created and hosted by singer Marc Gunn, won "Best Podsafe Music" in the Podcast Awards, validating Marc's status as "The Godfather of Celtic Music Online."
The Podcast Awards honor the world's best podcasters in over 20 categories. Listeners and podcasters nominate and then vote for their favorites. While total vote count information is not yet available, the site registered over 500,000 hits a day during the 2009 voting.
"I didn't expect to win two years in a row," Gunn said, "but then that shows how popular Celtic music has become these days."
"The Irish and Celtic Music Podcast" is a series of hour-long downloadable programs of independent Irish and Celtic music. It offers a wide variety of Celtic music, from traditional to Celtic rock, serious to comic. It is also enhanced by the charm and wit of Marc Gunn, a Celtic singer and autoharp player whose music is heavily influenced by American Celtic song tradition. Gunn has dedicated himself to helping promote not only his own music, but that of other independent Celtic musicians.
Rhetta Akamatsu, author and fan of the podcast said, "Marc always provides something for everyone on the show, and all of it is high-quality music."
Because of his work ethic and steady support of the music, plus his contagious sense of fun, Marc is well-loved in the indie Irish-Celtic music community. He takes his mission of promoting free and indie music online seriously while insuring that the episodes are always entertaining. For that reason, the Irish and Celtic Music Podcast is the most-downloaded Celtic show online.
The Irish and Celtic Music Podcast can be found online at http://celticmusicpodcast.com/.
###