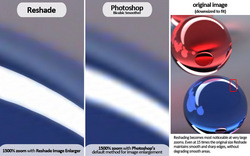 The product is extremely useful and intuitive for professionals in need of superior-grade images and with not much time to spare.
(PRWEB) January 10, 2011
Reshade today announced the launch of version 2.0 (pre-release) of its highly popular software, Reshade Image Enlarger. According to the company spokesperson, the software has further added to the creative power of graphics professionals and artists offering new and enhanced features.
The Reshade Image Enlarger software is aimed at professionals whose work involves processing and enlarging graphics images and pictures, such as photographers, web designers, filmmakers, graphic artists, advertising agencies, book publishers, interior décor firms and the like. The software makes it possible to achieve clear and crisp contours at almost any zoom levels. Inherently fuzzy images are automatically touched upon and the focus adjusted to bring clarity. Defects, noise and other similar artifacts are reduced at a subtle level, to give a final outcome which is much more refined compared to the original image. Images that require the same processing can be submitted to the software as a batch, thus eliminating repetitive manual work by the user. Combined, the software adds to the creative talent and skills of the user in a very subtle and intuitive way.
The latest version, 2.0 (pre-release), provides Unicode filename support, and also offers the interface in five European languages besides English - French, German, Italian, Romanian and Spanish. The language pack comes bundled with the default installer.
The new version is a significant improvement in reliability over the 2.0 beta version, and includes all the features released in the beta stage. The development team has focused on enhancing the existing tools on the user interface, such as selecting the resolution and compression for an optimal print of the image, switching to a different crop midway without having to undo the work done on the image so far, resizing the images very easily by changing the basic underlying parameters in one go, etc. The new version also makes image administration much easier, such as by making it possible to handle multiple images in batch mode, standardizing the size of images in an entire folder in one go, and the like.
According to Mr. Vlad Hosu, Managing Director of Reshade - "Being versatile, the product is extremely useful and intuitive for professionals in need of superior-grade images and with not much time to spare."
About Reshade
In its fourth year of operation, Reshade provides software solutions in the domain of photography. While the web-based version of Reshade Image Resizer may be used right off the browser, the windows-based version may be downloaded from their website.
# # #