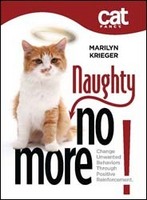 "Cats love clicker training. This book can make a better life for your cat and a happier cat in your life," comments Karen Pryor, author of Reaching the Animal Mind.
Freehold, NJ (PRWEB) January 10, 2011
Cat Fancy's Naughty No More, being published by BowTie Press on January 11, will quickly disprove the adage that cats are difficult to train. Author Marilyn Krieger, a nationally recognized cat behaviorist, shares her insight on how to resolve the most challenging behavior issues through a combination of clicker training, management and other positive reinforcement techniques. Krieger's sought-after advice and counseling helps restore tranquility to the home environment, thereby saving hundreds of cats from being abandoned on the streets or facing uncertain futures in shelters.
Cat Fancy's Naughty No More provides solutions to unwanted behavior and helps readers:
● Improve the human-cat bond
● End furniture scratching
● Prevent and change aggressive behaviors
● Take stress out of vet visits and travel
● Ban counter surfing
● And more!
Positive reinforcement has been a successful training method used with dogs for many years. Krieger discusses how the proper implementation of clicker training can provide a roadmap to success for better behavior from your cat as well. Cat Fancy's Naughty No More corrects current behavior issues and prevents future problems from developing, while strengthening the special bond pet lovers share with their cats through a positive mindset. Guidance and solutions now are available to every reader whose home is blessed with a creative, free-thinking feline.
ABOUT THE AUTHOR:
Marilyn Krieger, a Certified Cat Behavior Consultant who is known as The Cat Coach, is an internationally recognized and veterinarian-referred cat behavior specialist, offering consultation sessions throughout the world. Her intelligent, capable advice solves diverse behavior problems for all breeds of cats. Thousands of cat lovers are familiar with Marilyn, an award-winning writer, through her monthly column for Cat Fancy® magazine and http://www.catchannel.com, where she serves as a resident cat behaviorist. Marilyn also contributes articles to Tufts University's Catnip magazine, Cats USA and Kittens USA, and has appeared on Animal Planet's Cats 101. For more information, visit The Cat Coach, LLC.
ABOUT BOWTIE PRESS:
BowTie offers the finest animal care and pet books for dog, cat, horse, bird, fish, reptile, small animals, and farm animals as well as rural living and transportation topics. From how to house-train a new puppy to winning a "Best in Show," homeowners, experts, and professionals look to BowTie Press for the best and most relevant publications. More information can be found at: http://www.bowtiepress.com
For a review copy of Naughty No More or an interview with Marilyn Krieger please contact Marilyn Krieger at marilyn(at)thecatcoach(dot)com (650) 780 9481 or Anthony La Sasso at alasasso(at)bowtieinc(dot)com or (732) 531-1995 X 1013.
# # #