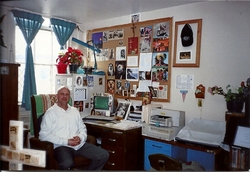 "He appears to be truly remorseful for his crimes. And when he gets out of prison in 2012, he will have to figure out how to earn but now, as an ex-felon in a down economy. But if there is anyone who can rebound, it's Stephen," says Mayfield.
Chicago, IL (PRWEB) January 12, 2011
On Wednesday, 1-19-11, American Greed's new season premiers on CNBC with the story of the Bank Robbing Broker. Actually dubbed the Long Island Bank Robber by the police, Stephen Trantel robbed 10 banks from July through November of 2003.
Trantel, a staunch family man who grossed six figures working as a trader on Wall Street, netted just over 60k from the 10 bank robberies. He was unarmed and no one was injured during the commission of the crimes.
Upcoming Book
Author, Steve Mayfield, is writing a book about the crimes (with the permission and support of Trantel), tentatively titled, Please Don't Cancel My Shadow, The Story of Stephen Trantel, The Long Island Bank Robber.
The book explores Stephen's 15 years as a trader, why he stopped earning, the actual robberies and how he was caught. How Stephen copes and even thrives while being one of the few college educated, 38-year old, (his age at incarceration) first-time prisoners in The New York State Department of Correctional Facilities, is covered in great depth.
Television Productions
Based on the media coverage, Trantel's story resonates with the public. This is third retelling to be produced for television about his crimes and what led up to them. The other two programs were 48 Hours (Stolen Dreams, 2008) and Who the Bleep Did I Marry? [Keeping Up Appearances, 2010)
Mayfield has started a blog about Stephen's last year in prison (He is scheduled to be released in January of 2012). In addition, a website has been set up which includes the impressive resume Stephen has carved out for himself while in prison.
For more information about the book, contact Steve at his website, email steve(at)noclichecopy(dot)com, or call at 269-469-3794. He is seeking a literary agent or a publisher for this book.
###